ECOTECH
It is designed for GREEN and high-performance applications. With excellent flexural strength, minimal warping, and a high-quality surface finish, it offers durability, stability, and an optimal basis for post-processing techniques, reaching a new standard for performance materials of the industry.
All uploads are encrypted end-to-end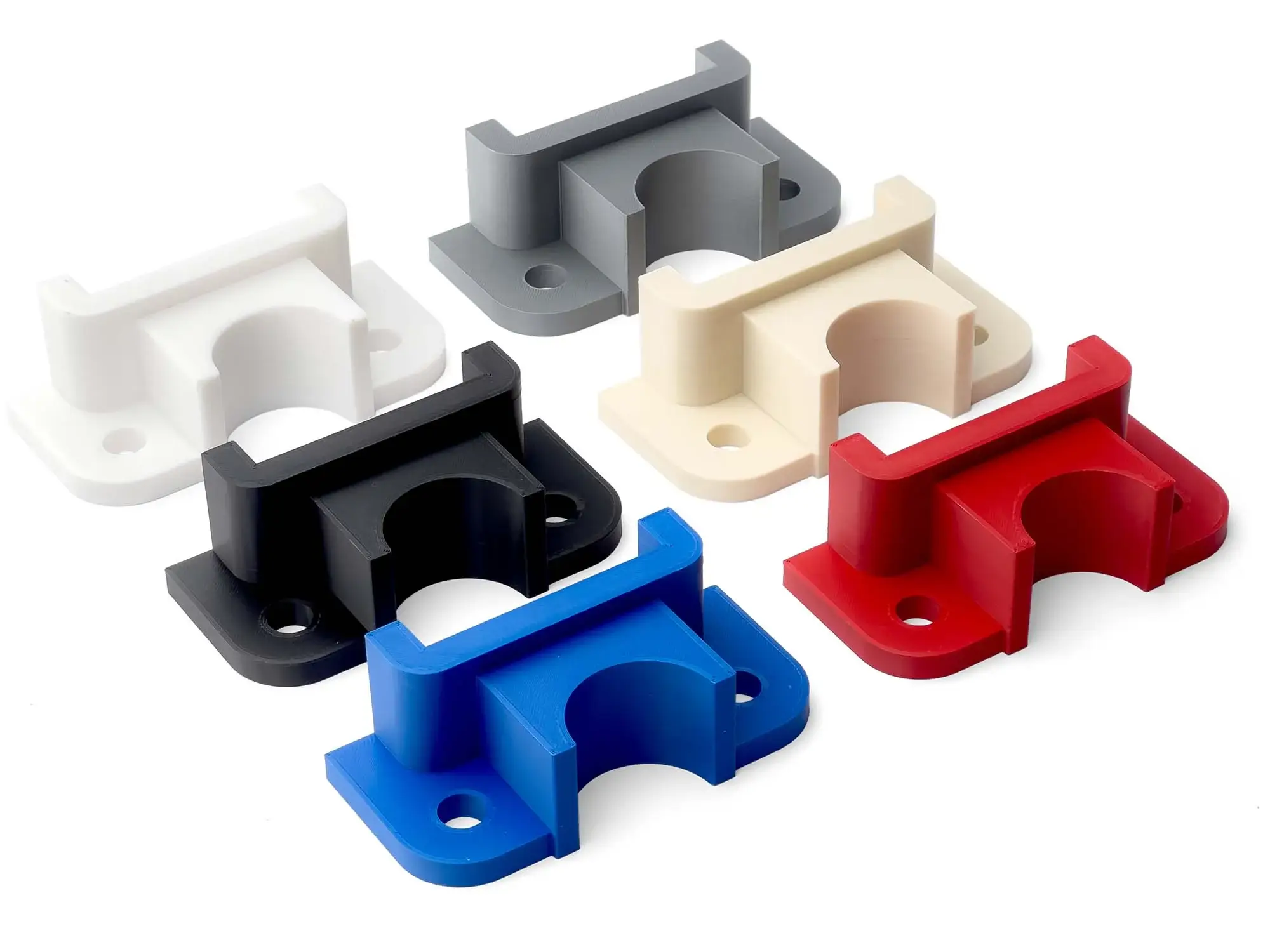 PROS
Excellent stability

Odourless, food-safe and FDA approved

Biodegradable according to DIN EN ISO 14855
CONS
Low elongation at break

Gray color is not FDA certified
MAIN FEATURES
3D printing process:

FDM
Tolerances: <100mm ± 0,60mm; >100mm ± 0,75%
Max size: 300x300x400 mm; 11.8x11.8x15.7 in
Lead time: <3 days


Excellent stability
ECOtech offers very good stability, making it a suitable material for different applications. its stability contributes to a consistent performance in a variety of conditions, providing a reliable option for projects that require durability and precision.




ODOURLESS, FOOD-SAFE AND FDA APPROVED
It is an odor-free material, ensuring a pleasant working environment during processing and usage. Additionally, it is food-safe and FDA approved, making it suitable for applications that come into contact with food or require strict health and safety standards. This compliance highlights ECOtech's versatility and adaptability for a wide range of industries and projects.
Biodegradable according to DIN EN ISO 14855
Not only a high-performance material but also an environmentally conscious choice, as it is biodegradable according to DIN EN ISO 14855 standards. This means that it can break down naturally over time, reducing its environmental impact and contributing to a more sustainable future. This attribute makes it an attractive option for those seeking a balance between performance and eco-friendliness in their material selection.
ECOtech is an innovative material with several notable advantages, as well as some potential drawbacks. Here's a brief overview of its pros, cons, and a comparison with other plastics:
Pros:
High-performance: It is designed for demanding applications, offering excellent flexural strength, minimal warping, and a high-quality surface finish.
Odourless: The absence of unpleasant odors during processing and usage ensures a more enjoyable working environment.
Food-safe and FDA approved: This material is suitable for applications involving contact with food or requiring strict health and safety standards.
Biodegradable: It meets DIN EN ISO 14855 standards for biodegradability, making it an environmentally responsible choice.
Cons:
Low elongation at break
Gray color is not FDA certified
Comparison with Other Materials
It stands out from many traditional plastics due to its combination of high-performance characteristics, food safety compliance, and biodegradability. While other materials might offer one or two of these features, it's rare to find a single material that excels in all these aspects. However, it's essential to consider factors such as cost and availability when comparing ECOtech to other plastics, as these can impact the overall suitability of the material for specific projects or industries.
Its unique combination of properties makes it suitable for a different range of applications across various industries. Down here you can find some potential uses.
Applications:
Automotive: Due to its high flexural strength and minimal warping, it can be used in the production of lightweight automotive parts, improving fuel efficiency and reducing overall vehicle weight.
Food packaging and storage: As a food-safe and FDA-approved material, it is ideal for creating containers, utensils, and other products that come into direct contact with food.
Consumer goods: The high-quality surface finish and durability make it an excellent choice for manufacturing everyday items such as electronics enclosures, toys, and household appliances.
Medical devices: its compliance with health and safety standards makes it suitable for producing medical equipment and devices that require precision and reliability.
Sustainable products: its biodegradable nature allows for the creation of eco-friendly products, supporting companies and consumers in their pursuit of sustainability and reduced environmental impact.
These examples represent just a fraction of the potential applications for ECOtech, as its versatile properties make it a valuable material for numerous industries and projects.
"We recently ordered custom 3D printed parts made of ECOtech from Weerg for our new medical device prototype, and I couldn't be happier with the results! The parts were delivered on time and exhibited excellent quality, with a smooth surface finish that exceeded our expectations. ECOtech material has proven to be highly durable and reliable, ensuring our device performs as intended. Plus, knowing it's FDA-approved and biodegradable gives us peace of mind. We'll definitely use Weerg and ECOtech for future projects!"
| | |
| --- | --- |
| Tensile breaking load | 58 MPa |
| Modulus of elasticity | 4300 MPa |
| Elongation at break | 2,8% |
| Flexural modulus | 5400 MPa |
| HDT 0.45 MPa | 160°C |
| Izod impact resistance | 54 kJ/m² |
QUOTE IN 1 SECOND WITHOUT COMMITMENT
DON'T WAIT: UPLOAD YOUR 3D FILE AND GET A QUOTE FOR YOUR PARTS NOW!
Upload your 3D file to get one step closer to manufacturing your parts.