Steel C45
C45 steel (AISI 1045) is the best choice for strength and versatility! Exceptional tensile strength, excellent machinability and remarkable versatility.
All uploads are encrypted end-to-end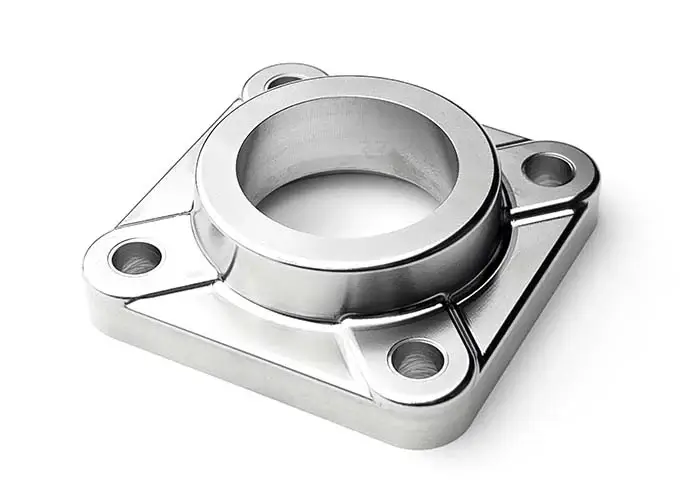 PROS
High tensile strength

Versatility

Good hardness and wear resistance

Weldability



CONS
Low corrosion resistance

Performance degrades at high temperatures
MAIN FEATURES
Machining process:

CNC machining
Tolerances: ISO 2768-1 fine (f) or medium (m) class. Info
Max size:

300 x 300 x 150 mm; 11.8 x 11.8 x 5.9 in
Lead time:

<6 days
High Tensile Strength
Its exceptional load-carrying capacity ensures reliable and long-lasting performances in a wide range of fields, from automotive to heavy machinery.
Versatility
Its versatility makes it suitable for different applications in a wide range of industries, meeting a variety of different needs thanks to its versatile properties and reliable performance.
Good Hardness and Wear Resistance
This feature makes it an ideal choice for applications where parts are exposed to friction, wear and abrasion, ensuring a longer lifetime for the parts.
STEEL ALLOY C45 IMAGE GALLERY
Steel C45 (AISI 1045) is a medium carbon steel that offers a unique balance of mechanical properties and cost-effectiveness, making it an attractive choice for numerous applications in a wide range of sectors. In these paragraphs, we will discuss its main pros and cons and provide a comparison with other steel alloys to help you make an informed decision for your future projects.

One of the most noticeable advantages is its high tensile strength. This feature makes it an ideal material for parts that require a strong and durable material, such as gears, shafts and axles. If properly heat-treated through processes such as hardening and tempering, it achieves considerable hardness and wear resistance. This property makes it suitable for applications where parts are exposed to friction, abrasion and wear, resulting in reduced maintenance costs and a longer lifetime.

Another important advantage is its versatility. The adaptable properties of this medium-carbon steel allow it to be used in various sectors, including automotive, construction and heavy machinery. Excellent machinability and weldability also contribute to its wide applicability, enabling cost-effective production processes and a wide range of end-use applications.

However, Steel C45 (AISI 1045) also has disadvantages. One of the main disadvantages is its limited corrosion resistance compared to stainless steels. This makes it less suitable for applications exposed to corrosive environments or aggressive chemicals. To overcome this problem, additional coatings or protective treatments may be required, but these may increase production costs and maintenance requirements.

Another potential negative aspect of it is its susceptibility to embrittlement if improperly heat-treated or exposed to specific environments. This may lead to a reduction in overall lifetime and possible parts failure. To avoid this problem, heat treatment processes and material selection appropriate to the specific application are essential.

When comparing Steel C45 (AISI 1045) to other steel alloys, it is essential to consider the specific requirements of the application. For example, if a material with higher corrosion resistance is required, stainless steel grades such as 304 or 316 may be a more suitable choice. On the other hand, if the priority is high strength and wear resistance at a more affordable price, Stell C45 (AISI 1045) may offer a convincing alternative to more expensive high-strength alloys such as AISI 4140.

In conclusion, it offers a unique combination of high tensile strength, versatility and affordability, making it an attractive choice for a wide range of applications. However, its limited corrosion resistance and potential susceptibility to embrittlement must be carefully considered when selecting materials for specific projects.
"As a mechanical engineer, I needed precise C45 steel alloy parts. Weerg user-friendly platform, competitive quotes, and exceptional part quality exceeded my expectations. Fast turnaround and responsive customer service sealed the deal!"
steel alloy C45 PROPERTIES
Tensile breaking load

650 MPa

Modulus of elasticity

210 GPa

Elongation at break

15%

Density

7,87 g/

cm³

Melting temperature

1495°C

Hardness

205 Brinell

Yield Strength

300 MPa
"As a product designer, I chose Weerg for custom C45 steel alloy parts. The easy-to-use platform, transparent pricing, and impressive accuracy on my components were top-notch. Fast production and excellent service made my experience superb. Highly recommended!"
QUOTE IN 1 SECOND WITHOUT COMMITMENT
DON'T WAIT: UPLOAD YOUR 3D FILE AND GET A QUOTE FOR YOUR PARTS NOW!
Upload your 3D file to get one step closer to manufacturing your parts.
free instant quote