Nylon PA6
carbon fiber
A strong, stiff and heat-resistant composite combining the properties of carbon fiber and nylon. It has excellent chemical resistance, low friction, and high impact strength. It is lightweight, making it attractive for aerospace and automotive applications.
All uploads are encrypted end-to-end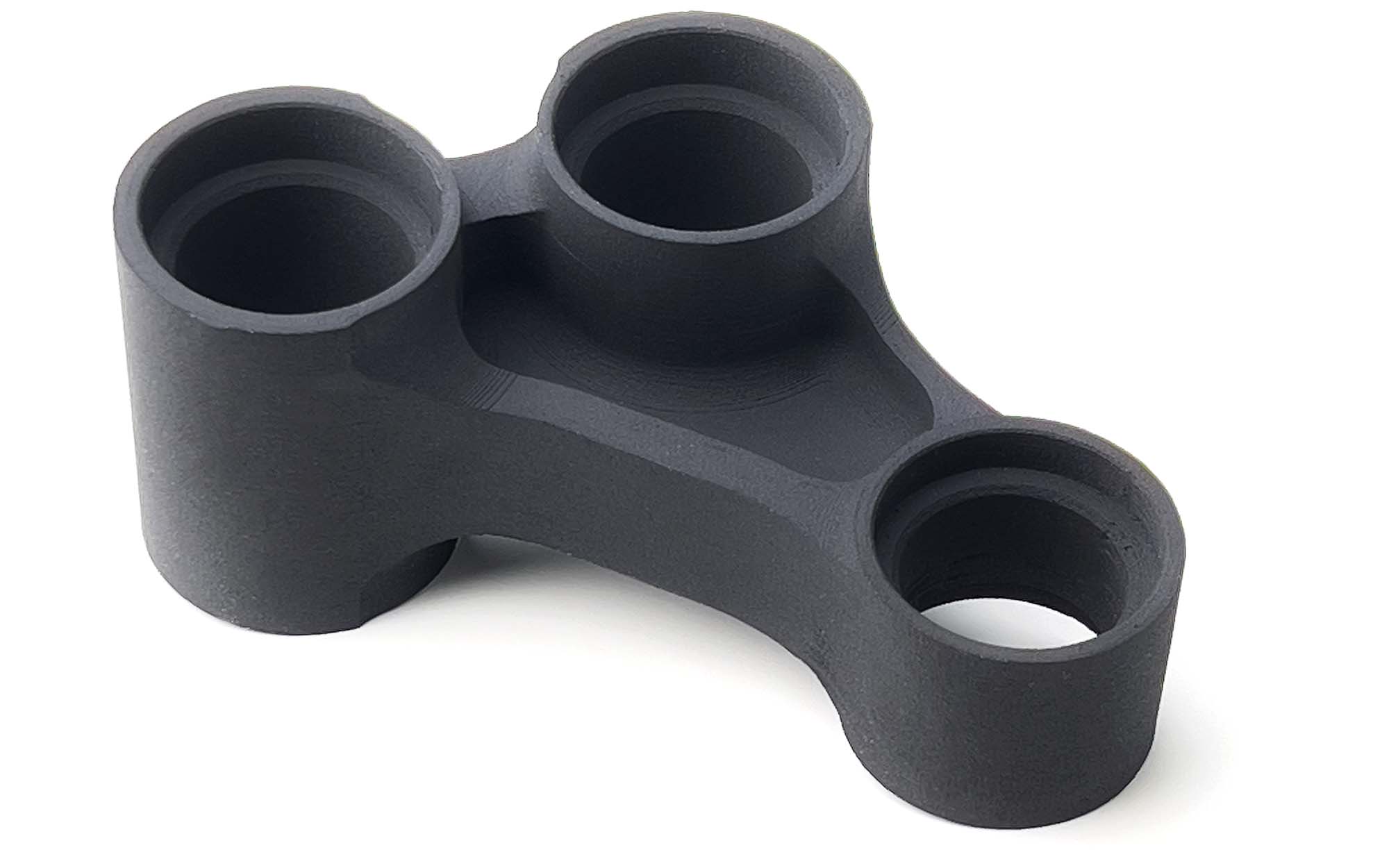 PROS
More flexible than PA12 CF

Higher elongation at break

Lightness

Excellent chemical resistance

Dimensional stability
CONS
Difficult to paint

Layers can be visible
MAIN FEATURES
3D printing process: FDM
Tolerance: < 100mm ± 0,60mm; > 100mm ± 0,75%
Max size: 380 x 284 x 380 mm; 15 x 11.2 x 15 in
Lead time: <3 days
Nylon PA6 CF (nylon PA6 with added carbon fiber) is an innovative composite material that combines the strength and stiffness of carbon fiber with the easy machinability and low cost of nylon.
Compared to PA12 CF it is slightly more elastic and more impact resistant.
It is lightweight yet highly durable, making it ideal for a range of applications. It has superior heat resistance, high impact strength, excellent chemical resistance, and low friction properties. This makes it perfect for applications requiring high performance in demanding environments.

Nylon PA6 CF is used in a variety of industries for its superior strength and durability.
It is ideal for automotive and aerospace components due to its lightweight yet strong characteristics. It is also perfect for medical devices, due to its low friction and excellent chemical resistance. Additionally, it is used in industrial and consumer products, such as sporting goods, tooling, and other components that require high performance and durability.

Nylon PA6 CF is a cost-effective alternative to traditional materials such as aluminum and steel. It is easy to machine and fabricate, allowing for a wide range of customization and design possibilities. It is also an environmentally friendly material, as it can be recycled and reused.

Overall, nylon PA6 CF is an ideal material for applications that require high performance and durability in demanding environments. It is lightweight, strong, and heat resistant, making it perfect for automotive and aerospace components.
It is also low friction, chemically resistant, and easy to machine and fabricate, making it an excellent choice for a variety of industrial and consumer products.
Tensile breaking load

63

MPa

Modulus of elasticity

2367

MPa

Elongation at break

8

%

Flexural modulus

5224

MPa

HDT 0.45 MPa

179

ºC

Izod impact resistance

12 kJ/m

²
After searching a lot for the perfect material, I finally found the perfect solution in nylon PA6 CF - stiff but not too much, more resistant to impacts, combined with its low friction, allowed me to create the perfect solution for my project.
QUOTE IN 1 SECONDS WITHOUT COMMITMENT
How much would my parts made of PA6 CF nylon cost?
upload your 3D and find out now
free instant quote