Nylon PA12
Nylon PA12 MJF is a versatile material that allows you to quickly produce prototypes and functional parts (from 1 to 10.000 parts in 3 days). It is a real alternative to injection moulding and offers you absolute design freedom.
All uploads are encrypted end-to-end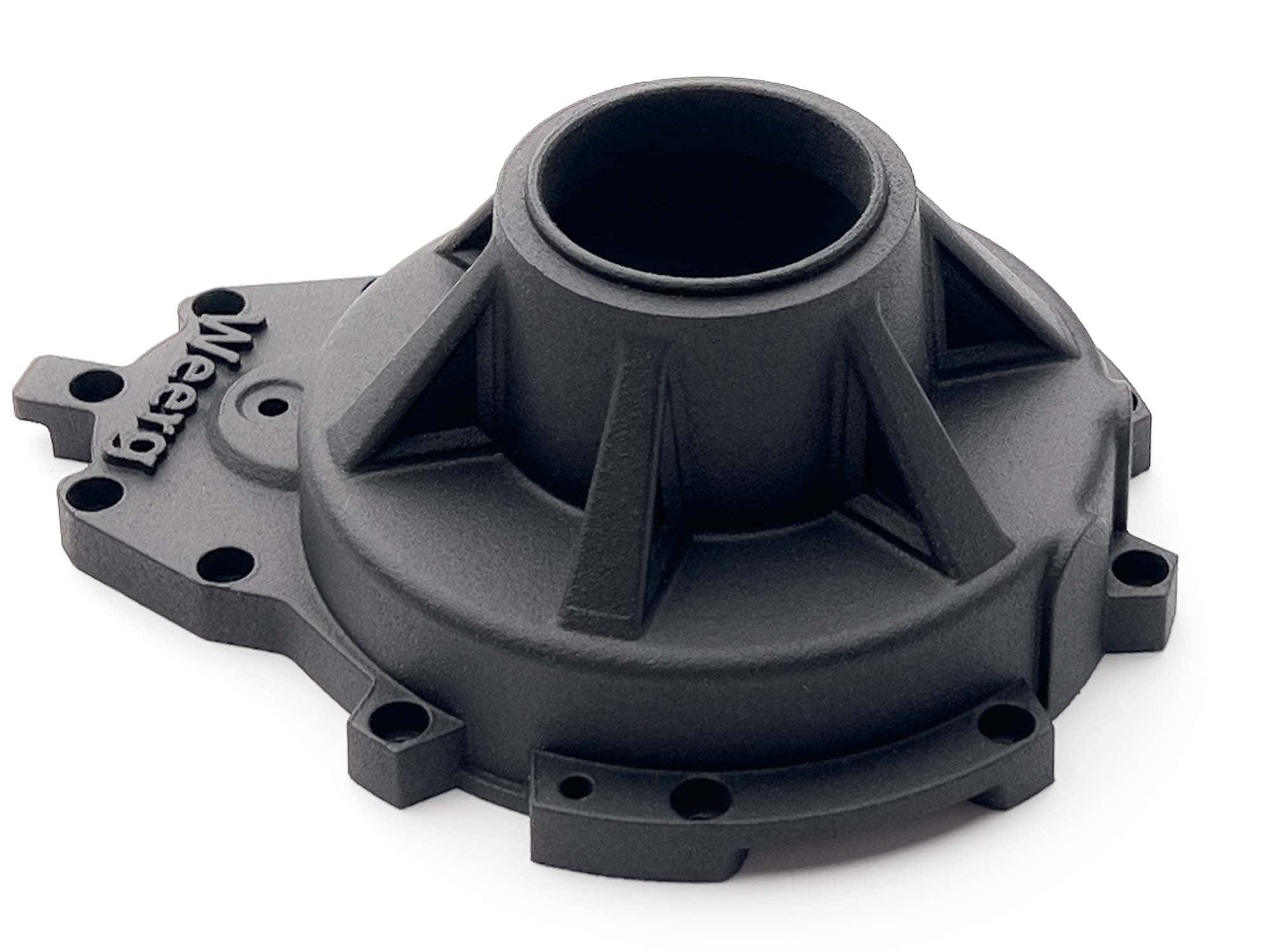 PROS
From 1 to 10.000 pieces in 3 days

Good chemical resistance

Real injection molding competitor

Parts are 100% solid and constructed without supports

UL-certified
CONS
Limitations related to high thicknesses or too massive parts

Parts with wide flat surfaces can warp
MAIN FEATURES
3D printing process:

MJF
Tolerances:

±0,30mm < 100mm ; ±0,3% > 100mm

Max size:

380 x 284 x 380 mm ; 15 x 11.2 x 15 in

Lead time:

<2 days


Highly functional
Highly functional parts with excellent mechanical properties. This material is durable and offers excellent tensile, abrasion and impact resistance. This makes it an ideal material for the production of final functional parts with the same features as injection-moulded PA12.
Excellent mechanical properties
Nylon PA12 is also highly temperature resistant, making it suitable for use in high or low temperature environments. In addition, it has a high surface finish and excellent dimensional stability, enabling extremely accurate prints thanks to HP MJF technology.
Very easy to paint
Weerg offers a wide range of RAL colours for 3D printed parts made in Nylon PA12, allowing production in a variety of different colours and finishes. However, Nylon PA12 is very easy to paint with normal acrylic spray paint, giving you the freedom to customize your parts with the colours you prefer. This makes it perfect for creating detailed patterns and parts with unique colours, giving your prints the perfect finish!
Nylon PA12 is an ideal material for applications requiring versatility and superior mechanical properties.

We produce your parts in Pa12 using HP Multi Jet Fusion 3D printing: the parts are therefore 100% solid and have no need for supports, giving designers the freedom to create complex designs without the typical constraints found in other manufacturing processes.


Pro
Fast Production: Thanks to MJF technology, nylon PA12 allows the production of 1 to 10,000 pieces in just three days, making it ideal for the fast production of prototypes and finished products.

Strength and Durability: The combination of extraordinary strength and flexibility makes this material perfect for a wide range of industrial applications.

Excellent Chemical Resistance: Resistant to many oils, greases, hydrocarbons and solvents, nylon PA12 proves perfect for applications in areas such as the chemical industry, automotive or medical equipment manufacturing.

Dimensional Stability: Parts moulded retain their original shape and size even under stress or extreme environmental conditions, ensuring dimensional accuracy and consistency essential in many industries.
Cons
Thickness limitations: While nylon PA12 is ideal for many 3D printing projects, it has limitations when it comes to thicker parts or very massive components. This may require more careful design or the use of specialised printing techniques.

Parts with large flat surfaces can deform: During the 3D printing process, the material is heated and if different parts of the part cool at different speeds, this can generate internal tensions in the material. These tensions can cause parts of the part that cool faster to bend or warp, creating deformations especially with large flat surfaces. In order to avoid warping, post-production work or design adaptation may be required to ensure dimensional stability.
Applications of Nylon 12
Aerospace: Nylon PA12 is widely used in the aerospace industry for the production of lightweight but strong components, such as fairings and internal structural parts of aircraft.

Oil and gas industry: Due to its excellent chemical resistance, it is often used to make flexible piping and equipment components resistant to oil, gas and other corrosive fluids.

Automotive: In the automotive sector, nylon PA12 finds application in the production of interior and exterior parts of vehicles, such as engine components, linings and gaskets.

Sports and leisure: Due to its combination of strength and flexibility, it is used in the production of sports equipment, such as tennis rackets, gym equipment and bicycle parts.

Electronics: It is used as an insulating and protective material for cables, connectors and housings of electronic devices, due to its resistance to temperature and chemicals.

Fashion: Finally, it is widely used in the fashion industry, used for the production of strong and lightweight accessories such as belt buckles, glasses and shoe components.
Comparison with other materials
Resin: Resin is prized for its ability to create very precise details and for its smooth finish. However, nylon PA12 has superior strength and offers greater flexibility, making it more suitable for parts that must withstand high loads or wear.

ABS: ABS is a popular 3D printing material due to its strength and durability. However, nylon PA12 outperforms ABS in terms of abrasion resistance and chemical resistance. Furthermore, while ABS can be subject to warping during printing, nylon PA12 tends to offer better dimensional stability.

In summary, while each of these materials has its strengths, nylon PA12 stands out for its combination of strength, durability, abrasion and chemical resistance, and dimensional stability, making it an excellent choice for a wide range of 3D printing applications.
"Weerg Nylon PA12 3D printing service is outstanding! The speed and precision of the prints are amazing and the quality of the prints is superb. Highly recommend!"
Tensile breaking load

50 MPa

Modulus of elasticity

2000 MPa

Elongation at break

15%

Flexural modulus

1730 MPa

HDT 0.45 MPa

175°C

Izod impact resistance

3.5 kJ/m

²
"Weerg Nylon PA12 3D printing service is remarkable! Results are incredibly fast and precise, and the quality of the prints is incredible. Five stars in my opinion!"
QUOTE IN 1 SECOND WITHOUT COMMITMENT
DON'T WAIT: UPLOAD YOUR 3D FILE AND GET A QUOTE FOR YOUR PARTS NOW!
Upload your 3D file to get one step closer to manufacturing your parts.
free instant quote