Aluminium 5083
Lightness, ease to weld and high chemical resistance are the main features of this alloy. It is used for parts to be joined together or if excellent corrosion resistance is required over long periods, such as in marine environments.
All uploads are encrypted end-to-end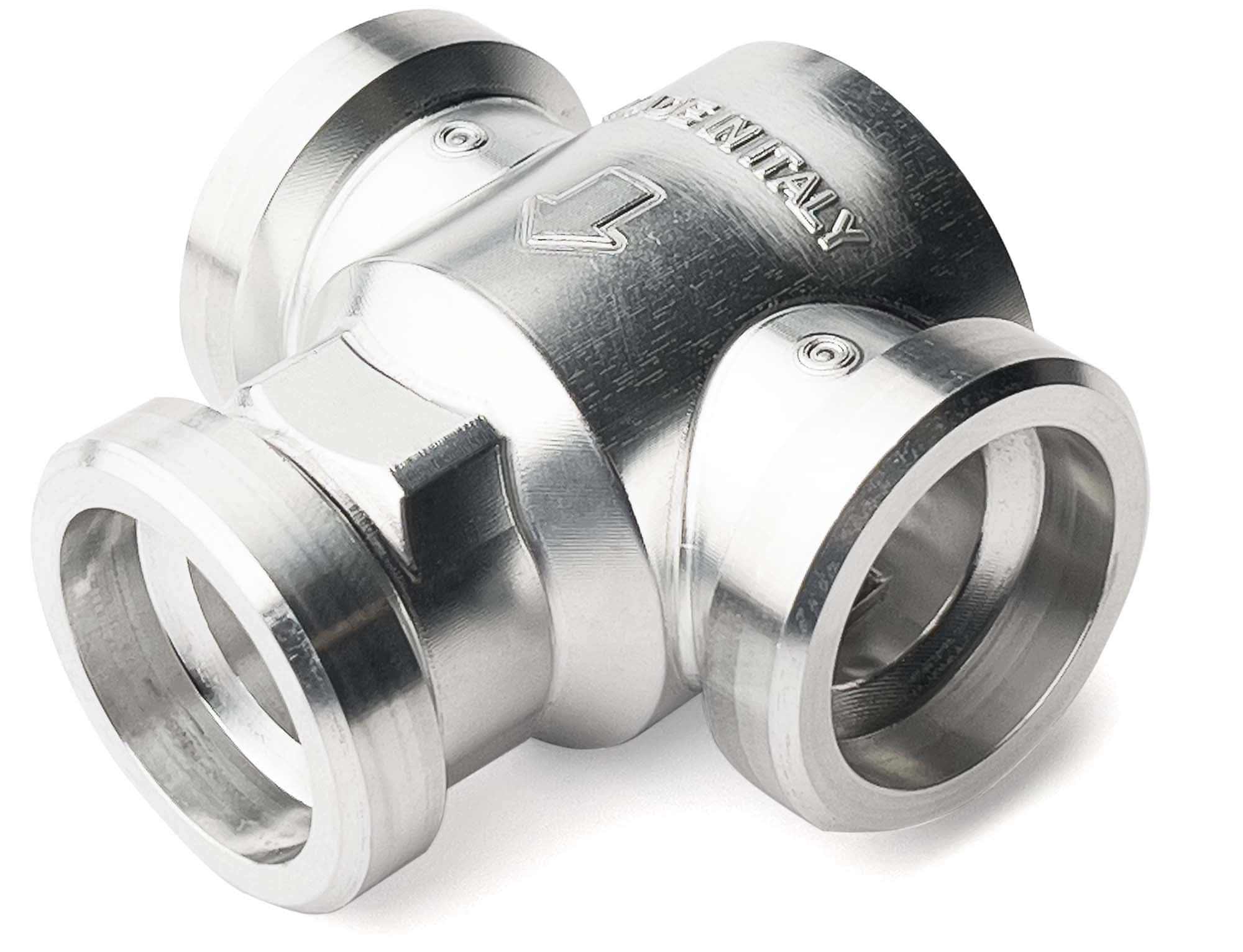 PROS
High oxidation and corrosion resistance

High fatigue resistance

Very good weldability
CONS
Thin walls complex to machine

Low mechanical resistance
MAIN FEATURES
Machining process:

CNC machining
Tolerance: ISO 2768-1 fine (f) or medium (m) class. Info
Max size:

500 x 500 x 400 mm; 19.7 x 19.7 x 15.7 in
Lead time:

<4 days
Corrosion and oxidation resistance
It is known for its excellent resistance to corrosion and oxidation. This is due to the high levels of magnesium and other trace elements in the alloy, which create a protective oxide layer on the metal surface, preventing further corrosion and degradation.
high fatigue resistance
This alloy is a typical choice for structural applications involving cyclic loads. Thanks to its fine-grained structure and high content of magnesium, it increases strength and durability under repeated stress.
good weldability
Aluminium 5083 is easily weldable, with excellent strength and weld quality. This is due to the low levels of impurities and alloying elements, which results in it being less susceptible to cracks and other defects during welding. In addition, the thermal conductivity of the alloy allows for efficient heat dissipation during the welding process.
ALUMINIUM 5083 IMAGE GALLERY
Aluminium 5083 is a popular aluminium alloy, known for its high strength and excellent corrosion resistance. It has magnesium as its primary alloying element, which enhances its strength and makes it highly resistant to corrosion in marine and industrial environments.
The properties of Aluminium 5083 are impressive. It has a minimum tensile strength of 305 MPa and a minimum yield strength of 215 MPa, making it an ideal material for applications that require high strength. Its elongation is at least 12%, indicating good ductility. It is also highly resistant to corrosion, particularly in seawater, making it suitable for use in marine environments.
The advantages of Aluminium 5083 are numerous. Its high strength and corrosion resistance make it an ideal material for use in shipbuilding, where it is commonly used for hulls, decks, and superstructures. It is also used in the aerospace industry, where its strength-to-weight ratio is highly valued, particularly in the construction of aircraft wings and fuselages. In the automotive industry, it is used for components such as fuel tanks and body panels due to its high strength and resistance to corrosion. Additionally, it is used in the construction industry for applications such as bridges and offshore platforms.
Aluminium 5083 excellent properties make it a popular choice for a variety of industries. Its high strength and corrosion resistance, combined to its light weight, make it a versatile material to use in a variety of applications where durability and reliability are important.
"I recently had my parts made of Aluminum 5083 by Weerg and I was extremely pleased with the results. The quality of the parts was top-notch, and the price was reasonable, considering the precision and attention to detail put into the manufacturing process."
ALUMINIUM 5083 PROPERTIES
Tensile breaking load

275 MPa

Modulus of elasticity

72 GPa

Elongation at break

14%

Density

2,66 g/

cm³

Melting temperature

614°C

Hardness

76 Brinell

Yield Strength

115 MPa
"Not only was the quality of the parts excellent, but the Customer Service provided by Weerg was also very nice. The whole team has been responsive and helpful throughout the process, answering my questions and ensuring that the requirements were met."
QUOTE IN 1 SECOND WITHOUT COMMITMENT
DON'T WAIT: UPLOAD YOUR 3D FILE AND GET A QUOTE FOR YOUR PARTS NOW!
Upload your 3D file to get one step closer to manufacturing your parts.
free instant quote