Nylon PA12 carbon fiber
Nylon PA12 CF (carbon fiber) is a high-performance material used industrially for metal replacement practices. Among its excellent mechanical properties, it is characterized by a high lightness and rigidity. Processed with FDM 3D Printing, it allows remarkable design freedom.
All uploads are encrypted end-to-end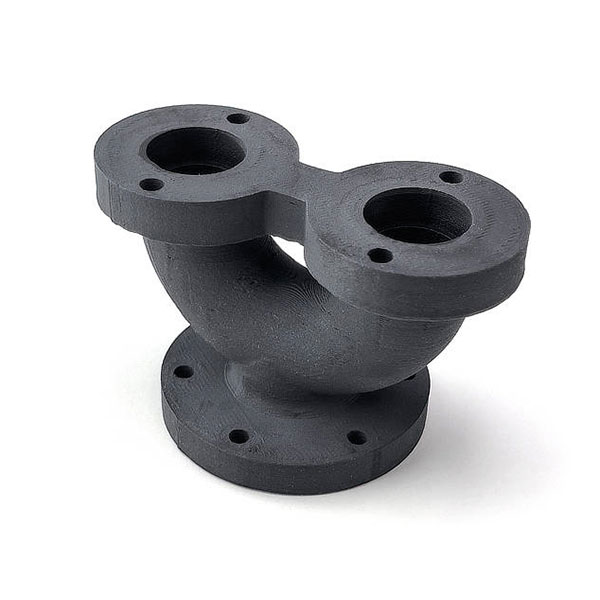 PROS
Mechanical and thermal properties

Rigid and resistant structure

Lightweight due to 30% infill
CONS
Limited geometric complexity

Anisotropic behaviour

Layers can be visible
MAIN FEATURES
3D printing process: FDM
Tolerance: < 100mm ± 0,60mm; > 100mm ± 0,75%
Max size: 380 x 284 x 380 mm; 15 x 11.2 x 15 in
Lead time: <3 days
Nylon PA12 CF (PA12 nylon with added carbon fiber) is an advanced polymer composite that can be used in a wide variety of applications.
It offers superior strength and stiffness, as well as excellent chemical and heat resistance due to its nylon matrix reinforced with carbon fibers.
As a lightweight material, it is perfect for weight reduction, yet it maintains its dimensional stability and accuracy. This makes it suitable for structural components, interior trim pieces, and any other application that requires precision.

Nylon PA12 CF offers a number of advantages over traditional materials, such as improved fatigue resistance and higher stiffness. It is also able to withstand high temperatures and will not sag or deform over time. This makes it ideal for parts that need to remain in place for long periods of time. Additionally, it is corrosion-resistant and can withstand harsh conditions and chemicals.

Nylon PA12 CF offers superior strength and durability, making it an ideal material for components in industries such as automotive, aerospace, and industrial.
Its lightweight properties make it suitable for components where weight reduction is a priority, while its superior dimensional stability and chemical resistance make it a reliable choice for any application.
Due to its superior strength-to-weight ratio and excellent heat resistance, Nylon PA12 CF (carbon fiber) is an ideal choice for a wide range of components and applications.
Tensile breaking load

56 MPa

Modulus of elasticity

8300

MPa

Elongation at break

2,9

%

Flexural modulus

3532

MPa

HDT 0.45 MPa

128

ºC

Izod impact resistance

12,1 kJ/m

²
Using Nylon PA12 CF for my project has been an incredibly rewarding experience. The combination of strength, weight reduction, and dimensional stability has been invaluable, and I'm thrilled with the results!
QUOTE IN 1 SECOND WITHOUT COMMITMENT
how much do my pieces made in PA12 CF cost?
upload your 3d file and find out right away
free instant quote