Nylon PA12
glass beads
The Nylon PA12 GB is added 40% with glass beads to improve stiffness and resistance to wear and heat resistance. Perfect for automotive, industrial, and consumer applications, these glass beads are the perfect choice for your needs.
All uploads are encrypted end-to-end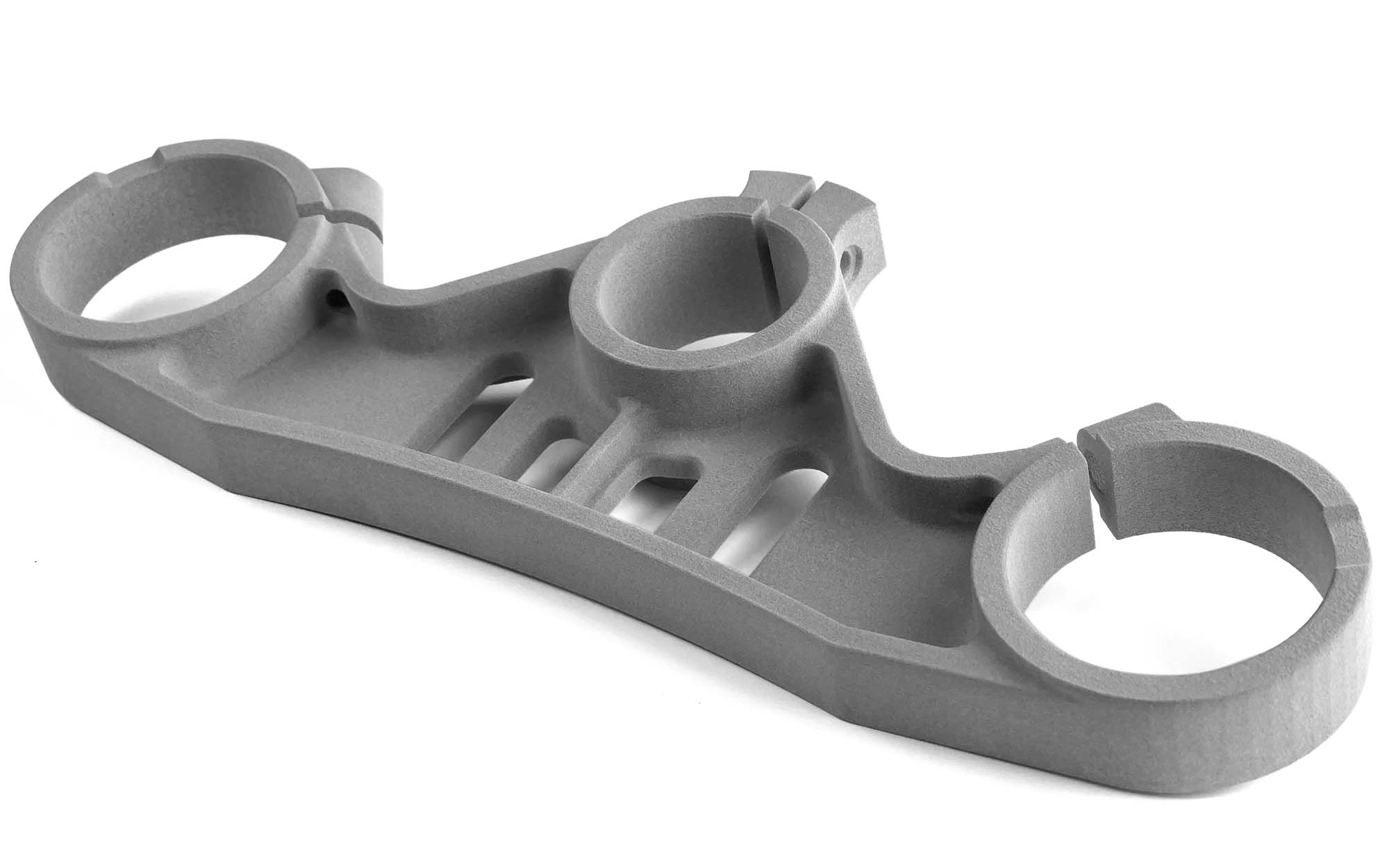 PROS
It is the material with the highest thermal resistance for HP MJF

Rigid and resistant structure

Good wear resistance
CONS
Fragile behaviour for thin thicknesses

Difficult to print in large formats

Parts with large flat surfaces can deform
MAIN FEATURES
3D printing process: MJF
Tolerance: <100mm ± 0,40mm; >100mm± 0,4%
Max size: 380x284x380mm; 15x11.2x15in
Lead time: <5 days
Nylon PA12 GB (PA12 added with glass beads) is a versatile and essential material for creating parts.
It is often used for creating seals in mechanical, electrical and electronic products and for creating functional parts which require hinge operations.
The material has a very low coefficient of friction, making it ideal for designs which require a smooth sliding action. It is also incredibly reliable for creating parts with durability and longevity.
Parts produced from nylon PA12 GB have excellent dimensional stability, allowing for accuracy of fit and operation.
Additionally, the material is also resistant to attack from chemicals, providing security against environmental damage.
Nylon PA12 GB is an ideal choice for parts used in the food and beverage industry, as they meet the most stringent hygiene standards.
This versatile material is also an ideal choice for use in demanding outdoor applications, as the material is highly resistant to the effects of UV light and high temperatures.
Nylon PA12 GB also provides great thermal and electrical insulation properties, making them suitable for many building and design components.
The strength of parts produced using this material makes them suitable for large industrial applications, providing many years of service.
Tensile breaking load

31

MPa

Modulus of elasticity

2900

MPa

Elongation at break

7

%

Flexural modulus

2400

MPa

HDT 0.45 MPa

171

ºC

Izod impact resistance

3,6 kJ/m

²
I use Weerg's nylon PA12GB parts for many of my engineering projects because they are so adaptable and dependable, and I have no doubt that they will continue to exceed my expectations.
QUOTE IN 3 SECONDS WITHOUT COMMITMENT
Do you want to turn your 3D project into reality?
Upload your 3D file to get one step closer to manufacturing your parts.
free instant quote