Weerg suggests to always respect the following rules, during the nesting phase, in order to have an optimal result in terms of tolerances and repeatability.
The rules suggested below derive from the HP manufacturer itself and from our many years of experience in the use of these machines.
Remind that the maximum dimensions of the printing area are:
380x284x

380mm

(X, Y, Z) on PA11 and PA12
380x284x

370mm

(X, Y, Z) on PP (Polypropylene)

Distance between the parts (on all axes X, Y, Z)

Parts above 100cm³: space out at least 10mm

Parts smaller than 100cm³: space out at least 3mm, for PP at least 5mm
Parts with density higher than 25%: space out at least 10mm
Printer layout borders (only axes X e Y)

All parts: the distance at least 5mm from the outer limits, further 5mm (then 10mm) for the PP.

The actual plate dimensions will therefore be 370x274mm for PA11 and PA12 and 360x264mm for PP
Density

From 1% to 11% max (

suggested from 5% to 8%

)


Density is the ratio between the actual volume of material to be printed and the volume of the printing area, expressed as a percentage
Parts orientation (only axes X e Y)

In order to obtain better tolerances and surfaces, it is preferable to incline flat surfaces perpendicular to Z by 20 ° in X and/or 20 ° in Y, where possible, especially those oriented in the Z + direction.

In this way, the "layer" effect given by the printing layers will be limited as much as possible, as well as improving the mechanical characteristics of the part and improving its finish and tolerance of all the walls that would have been parallel to Z.

This method is suggested in particular to guarantee constant eccentricity of circumferences such as holes, pins or tubes in general.

Also orient the "face" of the part, which you want to obtain with a better finish, in the Z- direction (i.e. facing the printing plate). Do not orient flat surfaces with inclinations lower than 15 ° with respect to the XY plane to avoid finishing effects that are not pleasant to the touch, rather orient the parts flat.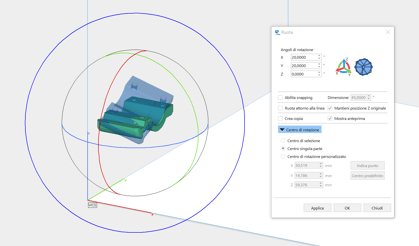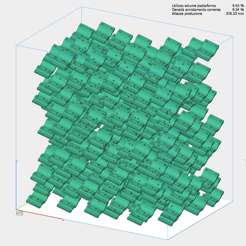 Small parts containment (cage creation)

All parts smaller than 1cm³ or with 2 or more sides with dimensions less than 10mm must be placed in containment cages, these must have meshes sized in such a way as to contain the parts so they cannot be lost during cleaning operations.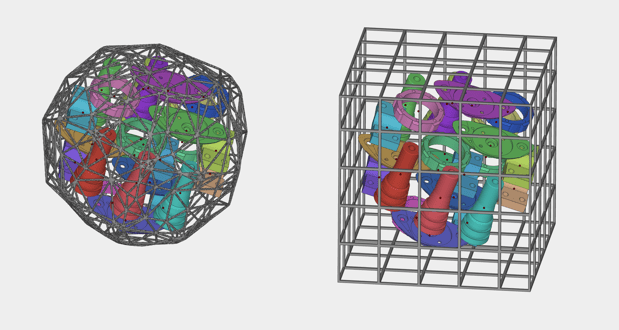 As for the design of the individual files, please refer to our dedicated page:
Recommended software for nesting your 3D build

Although there are many software with which you can carry out a manual nesting (for example you could use any 3D CAD software) we tend not to recommend them because the optimization is too complex to be done properly and without errors by hand. This is why we recommend the following automatic software:
---
We exclude any responsibility for the success or otherwise of the printed material if it does not comply with the above rules.
We will not carry out a pre-press check to see if these Nest or Design rules have been respected or not.
---
You could be interested in other articles about this topic: