PEEK
PEEK is a polymer used in the industrial and aerospace fields with exceptional mechanical properties, very similar to those of some metal alloys. In its filament-processed version, it allows complex geometries to be obtained, leaving the designer free from most of the limitations of traditional production technologies.
All uploads are encrypted end-to-end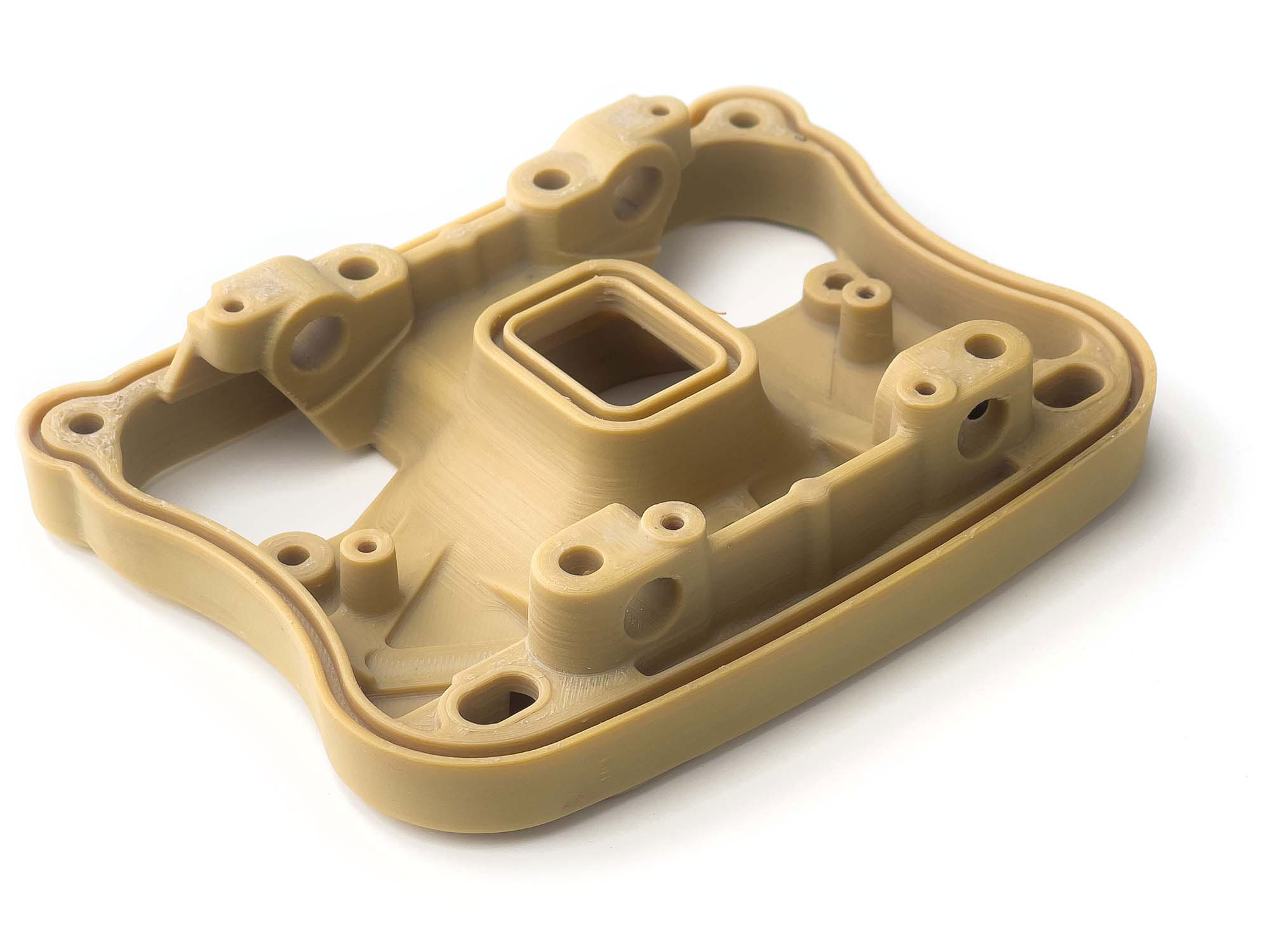 PROS
Excellent mechanical performance

Excellent resistance to high temperatures and chemicals

Flame retardant

The best option for Metal Replacement cases
CONS
Not uniform properties on all axes

Challenging to print

Most expensive compared to other 3D printing materials

Low impact resistance
MAIN FEATURES
3D printing process:

FDM

technology

Tolerances: < 100mm ± 0,60mm; > 100mm ± 0,75%
Max size: 300 x 300 x 400 mm; 11,8 x 11,8 x 15,8 in
Lead time: <3 days


Excellent mechanical strength
With its exceptional mechanical properties, PEEK stands out as a top choice. Its remarkable strength, makes it the ideal material for components that need to endure significant mechanical stress.
Thermal stability
With its exceptional heat resistance, this thermoplastic is the preferred choice for applications that require the ability to withstand high temperatures while maintaining their structural integrity.
Chemical resistance
With its remarkable resistance to a diverse range of chemicals, PEEK proves to be the perfect choice for applications in demanding environments, where the degradation of other materials is a concern.
PEEK is an impressive high-performance thermoplastic used in 3D printing with FDM (Fused Deposition Modeling) technology. It presents an exceptional blend of properties, providing unparalleled mechanical strength, thermal stability, and chemical resistance.
Pros
• Exceptional Mechanical Strength
PEEK offers outstanding mechanical properties. This enhanced strength makes it an excellent choice for parts that must withstand substantial mechanical stress.

• Superior Thermal Stability
This thermoplastic provides top-tier heat resistance, making it a preferred choice for applications that need to tolerate high temperatures without compromising their structural integrity.

• Impressive Chemical Resistance
PEEK exhibits exceptional resistance to a wide variety of chemicals. This makes it suitable for applications in challenging environments where other materials might degrade.
Cons
• Cost and Processing Challenges
PEEK can be more expensive and challenging to process than some other thermoplastics. However, its superior performance can often justify the additional cost and effort.
Comparison to other PEEK VARIANTS AND HIGH-PERFORMANCE PLASTICS
When we compare PEEK to other PEEK variants and high-performance plastics, we can better understand its different characteristics.
PEEK and PEEK Annealed:
PEEK manufactured parts have a crystalline structure in an amorphous state once removed from the printer's construction surface.

They can undergo an annealing heat treatment in a thermostatic oven in which, through a controlled cycle, the material is given time to crystallize and create an organized semi-crystalline structure.
| | |
| --- | --- |
| PEEK Amorphous (sample part) | PEEK Annealed (sample part) |
Crystallinity and Mechanical Properties: Annealed PEEK has improved mechanical properties due to increased crystallinity from an additional heat treatment, resulting in higher tensile strength, stiffness, and thermal stability compared to non-annealed PEEK.
Thermal Properties: Annealed 3D printed PEEK has higher thermal stability and is more suitable for high-temperature applications compared to non-annealed PEEK, which may not perform as well under extreme temperatures.
Dimensional Stability: Annealing improves dimensional stability of 3D printed PEEK parts by relieving internal stresses that can cause warping or deformation, resulting in more accurate and stable dimensions. Non-annealed parts are more prone to these issues.
Post-processing time: Annealing adds a step to production, increasing production time. Parts that are not annealed can be produced faster, but may be less performing..
Surface Finish: Annealing can improve the surface finish of 3D printed PEEK parts by reducing roughness and irregularities.
PEEK CF and PEEK GF:
PEEK CF (Carbon Fiber) and PEEK GF (Glass Fiber) also provide excellent mechanical and thermal properties. However, the semicrystalline structure of annealed PEEK offers higher tensile strength and superior dimensional stability.
CNC Machined PEEK:
Compared to CNC machined PEEK, 3D printed PEEK allows for more complex designs and can eliminate the need for expensive tooling. However, CNC machining may provide a better finish and tighter tolerances on some parts.
Metals:
As a 'Metal Replacement' material, PEEK can provide similar strength and heat resistance to some metals, but at a fraction of the weight. This makes it an exciting option for many applications where weight reduction is essential.
Recommended applications:
PEEK's extraordinary properties make it a versatile choice across a wide spectrum of applications. Its incredible performance under harsh conditions results in high-value applications across numerous industries:
Aerospace

It's an ideal choice for aerospace applications due to its high strength-to-weight ratio, excellent heat resistance, and flame retardant properties.
Automotive

In the automotive sector, it can be used for parts requiring high strength and heat resistance, such as under-the-hood components.
Oil and Gas

Its excellent chemical resistance makes it suitable for use in oil and gas industry components exposed to harsh chemicals.
Medical

PEEK is commonly used in the medical field for surgical instruments and implantable devices due to its biocompatibility.
Chemical processing

Its strong resistance to a wide range of chemicals makes it ideal for components in chemical processing plants.
Conclusions

In summary, PEEK stands out as a valuable material in the 3D printing landscape: its superior properties ensure that it will continue to find new uses in various sectors.
"In the demanding field of aerospace engineering, PEEK from Weerg truly excels. Its strength, thermal stability, and chemical resistance exceed expectations. With Weerg's efficient service, we optimized our design and received our parts in record time. PEEK is not just a plastic, it's a game-changer, enabling us to achieve significant weight reduction without compromising on durability. A breakthrough in aerospace applications!"
Tensile breaking load

100

MPa

Modulus of elasticity

3,7

MPa

Elongation at break

3

%

Flexural modulus

3612

MPa

HDT 0.45 MPa

180

ºC

Izod impact resistance

7,1 kJ/m

²
QUOTE IN 3 SECONDS WITHOUT COMMITMENT
Do you want to turn your 3D project into reality?
Upload your 3D file to get one step closer to manufacturing your parts.
free instant quote