Here is a simple step-by-step guide for you!
1. UPLOAD HERE YOUR 3D FILE


CNC machining: STEP or STP format files max 150Mb;
3D PRINTING: STEP, STP or STL format files max 150Mb.
The uploaded files are end-to-end encrypted and no one will be able to see or take possession of them.
💡 Do you have dozens or hundreds of 3D files to upload and do you not want to do it one by one? Compress them into a .zip folder and they will all load at the same time.

2. CHOOSE HOW TO REALIZE YOUR PART
You are now on the Quotation Tool page and can choose materials, finishes, quantities and production modes: prices will update in real time as you select these details.
Complete all fields and click the "Proceed to Check-out" button and you will be on a summary page where you can check the uploaded files and the chosen set-up.
3. BILLING AND SHIPPING ADDRESSES SELECTION
In the Check-out stage you are also required to enter a billing and shipping address and then proceed to the payment method selection. Once you have completed the addresses fields, click on the green "Continue" button to go on.
When completing field 3. Shipping you must also select a delivery mode between Express and Standard.
If you need to specify codes to be included on the invoice (e.g. PO reference) you can do so in the proper section, under point 2. on the Check-Out page, and then click Continue.
If you do not need to enter any codes you can simply click Continue, and leave the section blank.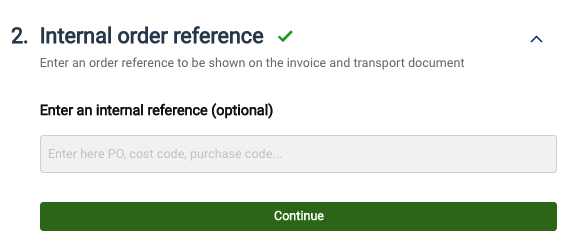 4. PAYMENT
Weerg provides different payment methods to simplify payment administration for you or your company. Discover the available payment methods.
Over €2.000 you can pay by bank transfer at 60 days (subject to approval of our Insurance Company).
Attention: In the event of payment by bank transfer in advance, production will only start after receipt of payment or accounting. In order not to delay the shipping date, we kindly ask you to immediately send the payment document to info@weerg.com.
You will receive invoice by email within 24 hours.

5. FEASIBILITY VALIDATION
Following the fulfilment of your order, you will receive an order confirmation email (if you do not find it, check your "spam" folder).
Afterwards, our engineers will check the technical feasibility of your files and, in case of technical difficulties, you will be contacted for technical advice to proceed with production.
❗In the event of any inconsistency or unfeasibility, you will be contacted by e-mail or telephone to find a solution to proceed with the processing.
👍 The status of your order and any notes will always be visible and updated in your User Area.
If you have any questions, please do not hesitate to contact our Support Team via the channel you prefer!
6. PRODUCTION AND SHIPPING
Once the feasibility of your project has been confirmed, we will produce it as requested.
The order will be shipped on the date you have chosen in the Quotation Tool.
🚚 The tracking link will be sent to you by email and will also be available in your User Area.
🗣️ Our Customer Service is available to assist you during the entire process of purchasing and receipt of order: do not hesitate to contact us if you have any doubts or needs.