Stainless Steel 304
Excellent corrosion resistance and versatility. This austenitic alloy is easy to weld, machine, and sanitize, making it a top choice for industries like food and beverage, pharmaceuticals, and architecture.
All uploads are encrypted end-to-end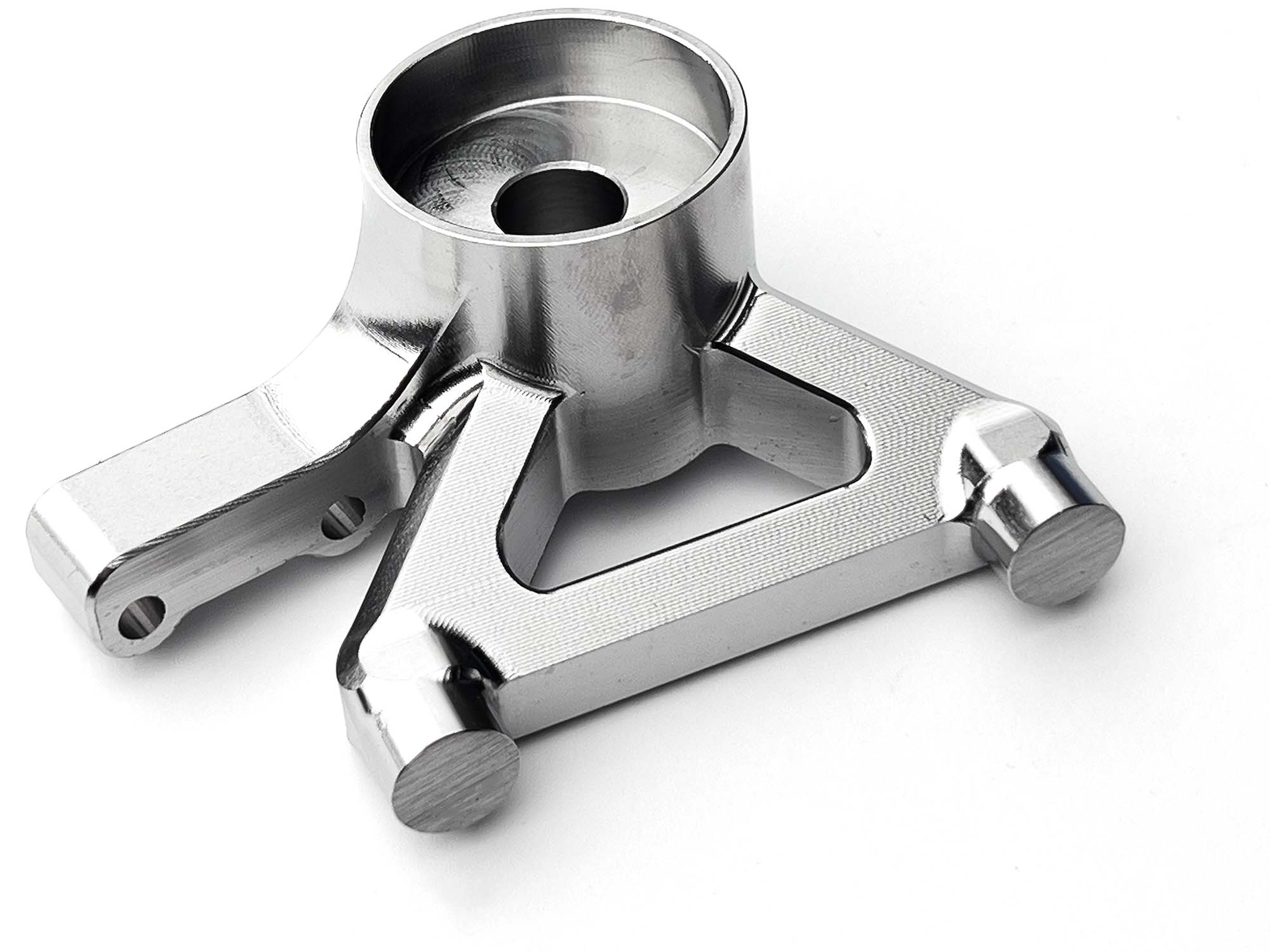 PROS
Good corrosion and high-temperature resistance

Easy to weld and machine




High resistance to deformation and breakage

Easy to clean and disinfect
CONS
Not suitable for acid or alkaline environments

It can rust in the presence of chlorides
MAIN FEATURES
Machining process:

CNC machining
Tolerances: ISO 2768-1 fine (f) or medium (m) class. Info
Max size:

300 x 300 x 80 mm; 11.8 x 11.8 x 3.15 in

Lead time:

<6 days
Corrosion and high temperature resistance
Stainless Steel 304 is known for its excellent corrosion resistance, making it a popular choice for applications where the material may be exposed to harsh environments or corrosive substances.
HIGH STRENGTH RESISTANCE TO DEFORMATIONS AND BREAKAGES
This material can withstand high levels of stress without breaking or deforming. In addition, 304 Stainless Steel has a high yield strength, meaning it can withstand significant deformations without ever reaching the breaking point.
Easy to clean and disinfect
One of the key advantages of Stainless Steel 304 is its non-porous surface, which makes it easy to clean and prevents the accumulation of bacteria and other contaminants.
STAINLESS STEEL ALLOY 304 IMAGE GALLERY
Stainless steel 304 is a versatile and widely used material that offers excellent corrosion resistance and a number of other desirable properties. This austenitic alloy is composed mainly of iron, with the addition of 20% chromium and 10% nickel, which give it its characteristic silver color and greater resistance to rust and other forms of corrosion.

One of the main advantages is its versatility. It can be easily moulded into a variety of shapes and sizes, making it suitable for a wide range of applications, from industrial machinery to household appliances. It is also highly resistant to high temperatures and can withstand exposure to aggressive chemicals and other corrosive substances, making it ideal for use in the chemical, petrochemical, food and beverage industries.

Stainless steel 304 is also very strong and durable, with excellent strength and toughness allowing it to withstand high stresses and impacts without breaking or deforming. In addition, it is easy to clean and maintain, making it an ideal choice for applications where hygiene is crucial, such as food processing equipment.

Another important advantage of Stainless Steel alloy 304 is its recyclability. This material is highly valued for its sustainability, as it can be recycled and reused many times without losing its properties or quality. This is why it is a common choice for all companies and industries seeking to reduce their environmental impact and carbon footprint.

Overall, Stainless Steel alloy 304 is a highly versatile, durable and sustainable material with excellent corrosion resistance and a wide range of potential applications. Its combination of strength, durability and versatility makes it an ideal material for a wide variety of industries and environments.
"I needed some custom Stainless steel 304 parts for my manufacturing facility and I couldn't be happier with the quality of work and Customer Service I received from Weerg. Parts were precision-cut to my exact specifications, with no burrs or rough edges. The turnaround time was incredibly fast, and the pricing was very competitive. I would highly recommend Weerg to anyone looking for high-quality metal parts"
STAINLESS STEEL ALLOY 304 PROPERTIES
Tensile breaking load

520 MPa

Modulus of elasticity

193 GPa

Elongation at break

70%

Density

8 g/

cm³

Melting temperature

1427°C

Hardness

125 Brinell

Yield Strength

235 MPa
"Not only was the quality of the parts excellent, but also the Customer Service provided in Weerg was first class. Their team was reactive and helpful throughout the process, answering all my questions and ensuring that all my needs were met."
QUOTE IN 1 SECOND WITHOUT COMMITMENT
DON'T WAIT: UPLOAD YOUR 3D FILE AND GET A QUOTE FOR YOUR PARTS NOW!
Upload your 3D file to get one step closer to manufacturing your parts.
free instant quote