High quality
Double quality check on all parts produced
Easy use
Simple and complete platform to quote and order
Fast service
Short, reliable and guaranteed production dates
From the idea of making quotes online...
Matteo Rigamonti, a Venetian entrepreneur with a passion for technology and innovation, had on numerous occasions needed to request the production of prototypes or small runs for his own projects, but each time he had encountered lengthy, complex and difficult to compare budgeting process with other estimates.
The production, on the other hand, had delivery dates that were never respected and when problems did arise, the dispute process and remaking of the parts was long and required constant negotiations. It was after yet another similar experience that Matteo thought : "Why can't you create a simple and precise website to request production with exact costs and timing? I'll do it."
This is how Matteo sells his now established company, the case study Pixartprinting, and started working with a small team on a new project, but with a lot of potential: in 2015 Weerg was born.
​
...to the largest producer in Europe
Matteo's idea was to create a platform that would guarantee designers a simple and satisfying experience to order their products, with the possibility of choosing materials, processes and tolerances. The platform would be intuitive, with exact costs and delivery times, while the production had to be simply excellent, offering the highest possible quality.
The market response was immediately very welcoming: with this vision and formula, Weerg has grown rapidly and able to offer more and more services and always with a focus on innovation. Today Weerg is the largest Online Service in Europe, with 100% all-in-house production, to guarantee high quality controls, reduced production costs and unparalleled speed.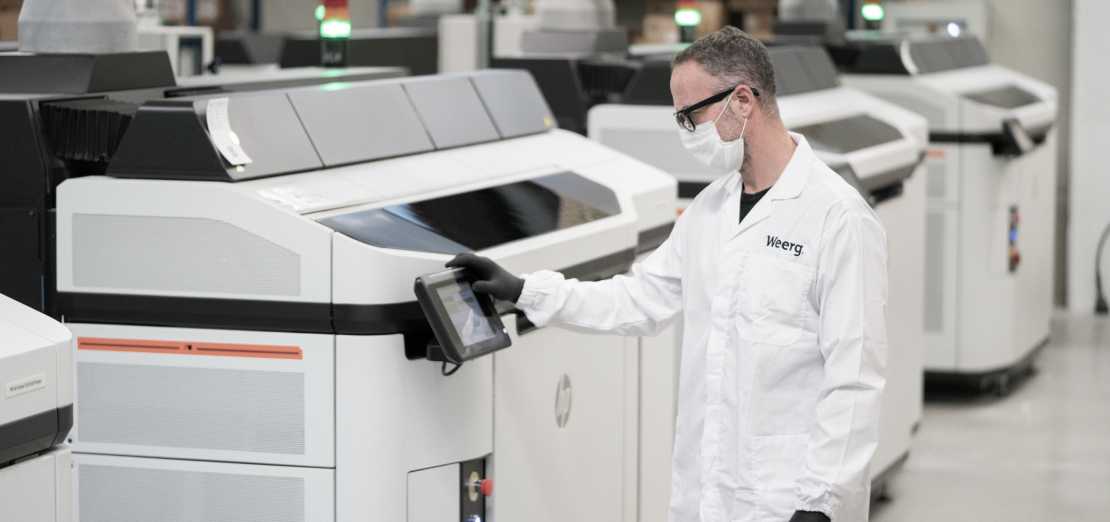 Where are we going?
Today Weerg pursues its mission with unwavering enthusiasm: the Online Service welcomes thousands of designers every day to order their parts. Weerg's Rapid Service, clear and transparent prices, technical support and continuous innovation are the winning formula underlying the Italian company.
​
Ongoing innovation
Weerg is today the largest online service with in-house production in Europe: this is because it is still driven by strong technological innovation and investing in processes that are increasingly efficient.
Investment in innovation is a founding element of Weerg and is transformed into dedicated teams aimed at software development, for the creation of increasingly precise and timely algorithms and AI, and technological, seeking every day new services, materials and post-processing to bring to the attention of Product Designers.