PPS GF Glass Filled
PPS GF (glass-filled polyphenylene sulphide) is a composite material that combines the outstanding properties of PPS together with the reinforcing effects of glass fibres. This high-performance thermoplastic offers higher mechanical strength, better dimensional stability and greater wear resistance than unfilled PPS.


All uploads are encrypted end-to-end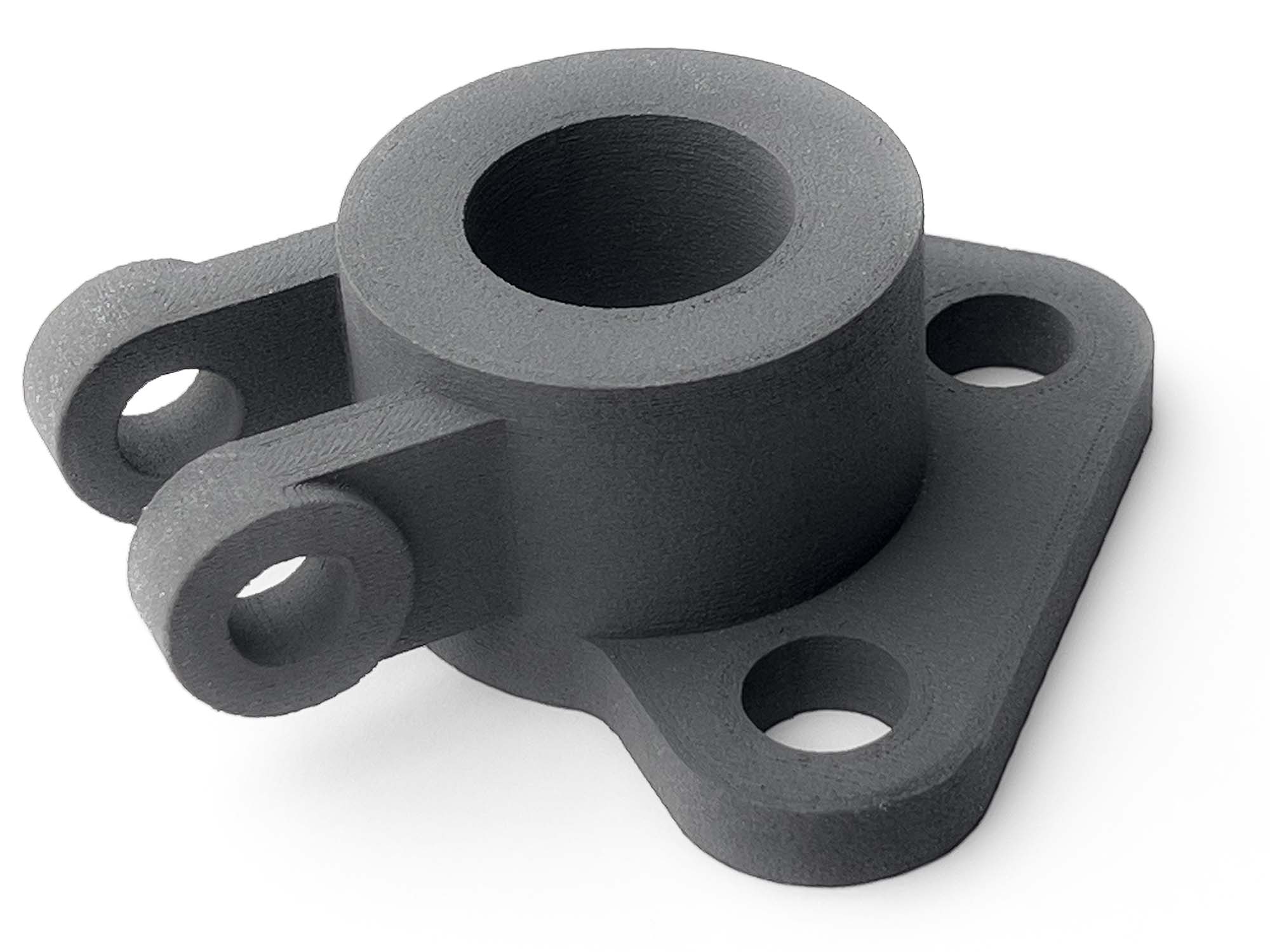 PROS
High chemical resistance

Thermal stability

Mechanical strength

Dimensional stability
MAIN FEATURES
3D Printing process:

FDM
Tolerance:

<100mm ± 0,60mm ; >100mm ± 0,75%

Max size:

300 x 300 x 400 mm; 11,8 x 11,8 x 15,8 in

Lead time:

<3 days
High chemical resistance
It boasts remarkable chemical resistance, a consequence of its distinctive molecular makeup featuring rigid rings and sulphide bonds. This composition enables the material to effectively withstand various chemicals, such as acids, alkalis, and organic solvents.
Thermal stability
Owing to its unique molecular framework, which is composed of rigid aromatic rings and sulphide bonds, it demonstrates exceptional thermal stability. This configuration imparts significant intermolecular strength and superior thermal resistance, allowing the material to endure elevated temperatures without considerable degradation or compromised mechanical properties.
Mechanical strength
Key features of the mechanical strength of PPS include high tensile strength (50-100 MPa for unfilled grades), good bending strength (80-130 MPa for unfilled grades), moderate impact resistance, high hardness, excellent creep resistance and good fatigue strength.
Glass-filled polyphenylene sulfide is a remarkable material choice for high-performance applications, offering numerous advantages over its unfilled counterpart and other thermoplastics. Here's an extended overview of its benefits, drawbacks, applications, and comparisons with alternative materials:

Pros:

Improved mechanical strength: It offers superior tensile strength, flexural strength and rigidity due to the reinforcing effects of glass fibres.
Improved dimensional stability: It keeps its shape and dimensions better under changing temperature and humidity conditions.
Improved wear resistance: The addition of glass fibres makes it more suitable for applications involving friction and abrasion.
Higher thermal properties: It has a higher heat deflection temperature (HDT) and better thermal conductivity than base PPS, making it ideal for high-temperature applications.
Cons:

Low impact resistance: It may have lower impact resistance than basic PPS, due to the brittleness brought by the glass fibres.
Processing difficulties: It is more difficult to print than the unfilled variant, and may result in increased abrasion on tools and equipment during production.
Costs: It is generally more expensive than unfilled PPS due to the additional costs associated to glass fibres and processing.
Applications:

Automotive parts: It is ideal for under-the-hood components requiring high strength and heat resistance, such as pumps, gears and valves.
Electronics: It is suitable for connectors, sockets and switches requiring excellent dimensional stability and high temperature resistance.
Industrial applications: It can be used in various industrial parts, including impellers, bearings and rollers, due to its superior mechanical properties and wear resistance.
Comparison

Unfilled PPS: It offers higher mechanical strength, better dimensional stability and greater wear resistance, making it a more robust solution for those applications where basic PPS might be insufficient.

Other thermoplastic materials (e.g., PEEK, PA, POM): PPS GF offers a balanced combination of chemical resistance, thermal stability and mechanical properties, making it a competitive option compared to those alternative materials.

In conclusion, it is a reliable, high-performance material that offers significant advantages over other thermoplastics, including unfilled PPS. The combination of outstanding properties and a wide range of applications makes it a valuable material for those seeking an effective and reliable solution for engineering needs.
"

I recently had the opportunity to work with Weerg on a project that required the use of PPS GF for a series of complex parts

.

I must say that the experience has been phenomenal

. The combination of PPS's remarkable properties and Weerg's exceptional 3D printing service has resulted in a successful project that exceeded my expectations."
Tensile breaking load

126 MPa

Modulus of elasticity

11000 MPa

Elongation at break

1,4%

Flexural modulus

6500 MPa

HDT 0.45 MPa

210°C

Izod Impact resistance

2,6 kJ/

m²

Maximum continuous use temperature

220°C
"

...the combination of the outstanding properties of PPS and Weerg's excellent 3D printing service proved to be a winning formula. I highly recommend both the PPS material and Weerg services to anyone looking for high-performance parts and a professional and reliable 3D printing partner. Five stars well deserved!

"
QUOTE IN 1 SECOND WITHOUT COMMITMENT
DON'T WAIT: UPLOAD YOUR 3D FILE AND GET A QUOTE FOR YOUR PARTS NOW!
Upload your 3D file to get one step closer to manufacturing your parts.
free instant quote