Introduzione
When you go to create prototypes or parts for customized projects or for replacement, the choice of material is a very important phase of the design.
Different materials used for the same design, even belonging to the same family, can have very different performances.
Therefore it is good to know the needs of our project, what we expect from its technical properties, even in cases of greater stress. Finally, the price is also a discriminating factor that should not be underestimated, in relation to the piece that will be made.
This guide is intended to help you choose the most appropriate material for your CNC Technology project.
What are the materials with CNC parts can be made?
The materials on which CNC machining can be performed are mainly 5 groups:
Aluminum Alloys;
Steel;
Stainless Steel;
Plastics;
Soft Metals


Each of these groups has different intrinsic characteristics and, within it, they are divided into materials that have further different characteristics that we are going to see in the next paragraph.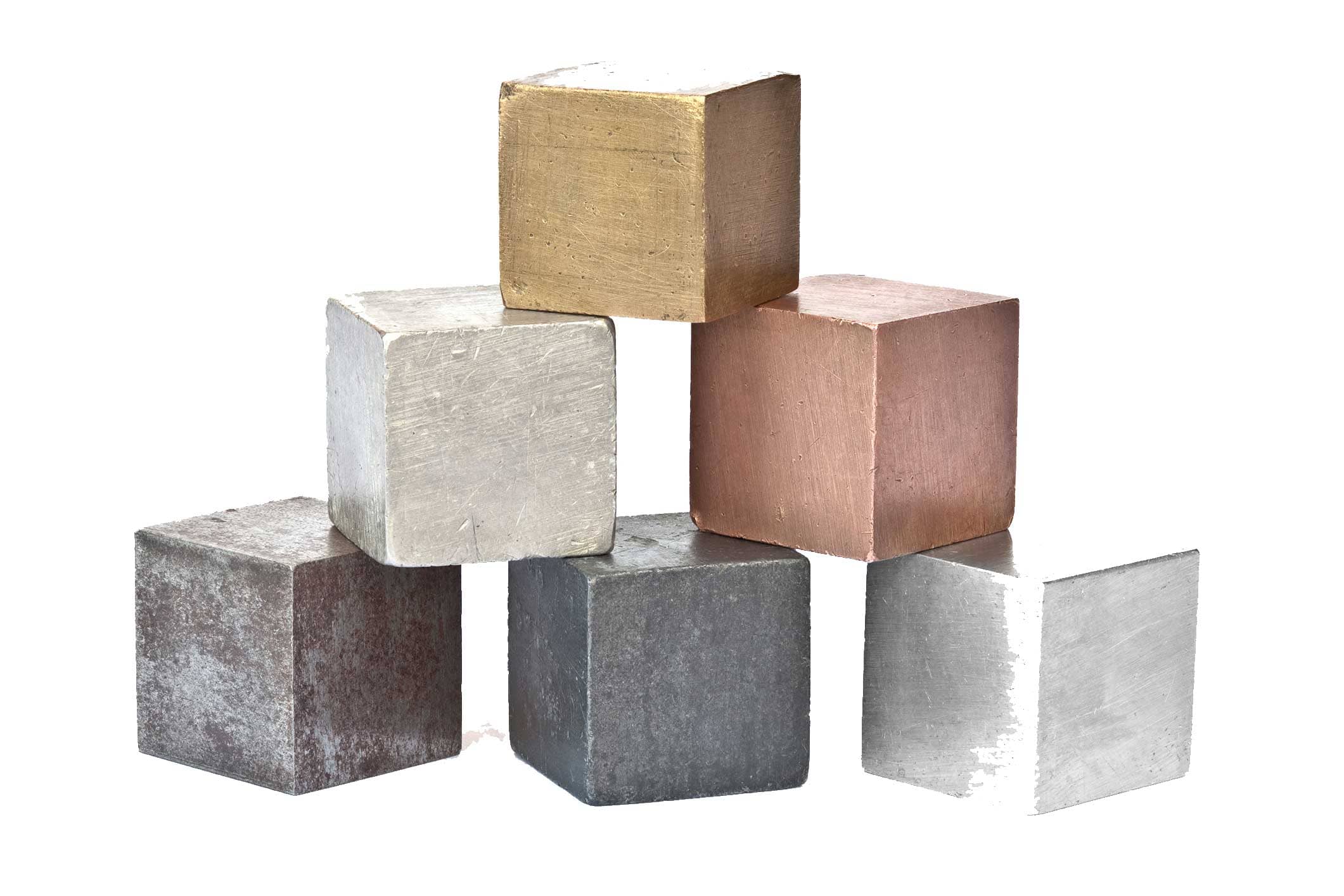 How are the materials divided to make CNC parts?
The materials used for the production of CNC parts respond to the design needs, identified during the designing phase. Let's now see a consideration about each material and the most common reasons for use. On the other hand, if we has already identified our technical needs, we can directly view the technical data sheets to identify the most appropriate material for our project.
Aluminum alloys - What CNC-made parts are used for?
Aluminium 5083 T651 (Peraluman): Aluminum alloy composed of 5.2% Magnesium which guarantees excellent behavior in particularly aggressive environments, great resistance to corrosion; in fact, it is often used in the marine environment. It offers excellent characteristics of weldability and ductility. For this reason it is used in the nautical, aerospace and automotive industries. On the other hand, its use is not recommended in cases where exposure to working temperatures above 65°C is expected;
Aluminium 6082 T651 (Anticorodal): alloy composed of magnesium, manganese and silicon. It has intermediate mechanical characteristics, excellent corrosion resistance and good workability characteristics. For this reason, it is usually used in the mould, textile, automotive, chemical, automotive and machinery construction industries;
Aluminium 7075 T651 (Ergal): aluminium, zinc, magnesium and copper alloy characterized by a strong hardness, with excellent workability characteristics and high durability. It is not suitable for humid environments as it has a low resistance to corrosion. It is used in the military, aeronautics, food, automotive, machinery manufacturing and tool development industries
Stainless Steel - What CNC-made parts are used for?
Stainless Steel Acciaio Inossidabile AISI 304: austenitic alloy composed of 18% chromium and 8% nickel. Chromium guarantees stainless steel, while nickel increases its elasticity. It is a material with excellent workability properties and with excellent corrosion resistance. It finds application in a wide variety of industries and uses: often linked to the food sector, but also to the production of parts for machinery, tools and in the architectural and aerospace fields;
Stainless Steel AISI 316L: austenitic alloy composed of chromium, nickel and molybdenum in higher percentages than 304 stainless steel; these percentages give it greater resistance to corrosion by acids, both at high temperatures and at high concentrations.
Steel - What CNC-made parts are used for?
Steel C45 AISI 1045: this type of steel, considered a soft material, is characterized by a very low cost of € / cm3. It is a very resistant material, easy to work with and characterized by good weldability;
Steel C39 39NiCrMo3: compared to the previous one, this steel improves its compressive strength and other mechanical characteristics. It can be subjected to induction as it is a steel that does not break easily;
Steel 18NiCrMo5: thanks to its properties, it is excellent for pieces that require high mechanical characteristics combined with high surface hardness. It is used for tools, machinery parts or molds for plastic materials.
Plastics - What CNC-made parts are used for?
Nylon 6 + MoS2: among its properties there are mechanical strength, hardness, rigidity, good toughness, mechanical damping capacity, good sliding properties. We recommend the use of plastic materials where properties such as high toughness, stiffness or good abrasion properties are required. It can work without lubrication and is characterized by operating in silence;
Delrin: plastic with the characteristics of being rigid, electrically insulating, as well as highly resistant, hard and with elastic stiffness. Low moisture absorption. Good dimensional stability.
Soft Metals - What CNC-made parts are used for?
Brass OT58: it is a very soft metal and can be worked without lubrication. It is also highly functional at room temperature, so it is often used in applications that do not require high strength. There are many types of brass, which largely depend on the amount of zinc: more is the amount of zinc, the more the chances of corrosion increase;
Copper C101: another soft metal characterized by excellent technological properties, ductility and malleability. It is corrosion resistant and conducts heat and electricity efficiently: copper is an excellent electrical conductor. Most of its uses are based on this property or on the fact that it is also a good thermal conductor;
Bronze CuSn12: Bronze is less rigid than other metals, making it an easy material to work with. Its main feature derives from the property of accumulating less heat and not creating sparks: for this reason, it is used for parts of machinery in contact with explosive elements or flammable gases. It is also resistant to strong pressures, which is why it is used for bearings, bushings, wheels or gears. Finally, it is characterized by its resistance to corrosion.

The process of selecting the right material for CNC machined parts
I state that in order to make an excellent choice of the material needed for our project, it is vital to know our own needs, bearing in mind what the function of this piece will be: this will be essential in choosing the material to use.

To clarify the concept of functional need we can make an analogy between the material chosen for a CNC part and a sports shoe: each sport has its own shoe, which is why it is not possible to climb a mountain with dance shoes. How I can't even play a rugby match in hiking boots. The same happens in the mechanical sector.

In order to identify the material we need, it is important to be clear about the technological, chemical and mechanical properties that my project will need.
How to choose the correct material for your CNC project?
Once I have identified the chemical, technological and mechanical needs of my project, I am ready to select the most suitable materials to meet them and, among these, perform the last skimming in a cost/effectiveness ratio.

To identify the design needs, let's ask ourselves the following questions:
What properties does my project need?
Does my project need the piece to withstand a certain temperature?
Does it need to resist corrosion?
Does it need lightness or not?
What technological needs does it need (welding, malleability, etc.)?
What mechanical needs does it need (hardness, torsional strength, compressive strength, etc.)?
Does it need to be a good conductor (electrical or thermal) or not?
Having a clear answer to each of these questions should have already allowed us to identify the best material for our project by identifying:
Weight and Density;
Corrosion resistance;
Mechanical properties;
Technological properties
Aesthetic Appearance;
Cost.
To help you make your decision, you can view the technical data sheets of the materials, including all their characteristics, here.
Rules for an excellent choice of CNC material
To conclude, we have seen that there is no absolute best material, but every project requires the correct choice of the right support.
We keep these rules in mind to choose the best material for our CNC project:
Identify the mechanical, chemical and technological needs our project needs;
Identify the material that meets these needs through this table;
Create a functional prototype in a few days and submit it to the necessary stress tests to confirm the design hypotheses or make improvements and optimizations.
If you have now found the best material for your CNC project, you can make a cost quote on your file here.
If you still have doubts, don't worry: as you have seen. the choice of material is one of the most delicate design phases. Our team of experts is available free of charge to support you in your choice: contact them here to tell them about your CNC project and what doubts you have regarding the construction material.