When it comes to final part fabrication, the question of choosing injection molding vs. 3D printing is likely to surface. And today this question arises much more than in the past. Why?
Plastic Injection Molding
Injection molding is one of the world's oldest industrial technologies used for high-volume plastic manufacturing. Despite all the forward movement of almost all the technologies the basic design and manufacturing process of PIM hasn't fundamentally changed over the past decades. In fact, not only have the processes not improved but they've also put a substantial strain on our natural resources, pushed production farther and farther from the consumer, and constrained design flexibility and customization.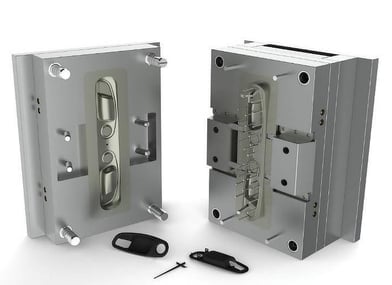 • Expensive upfront cost
• Poor design flexibility
• Little possibility of customization
• Final cost per part depends strongly on:
1. Final amount of parts, 2. Cycle time, 3. Production capacity
MJF 3D printing
The second half of the debate is MJF (HP multi jet fusion) 3D printing. In general 3D printing was used for prototyping and product development, but with MJF technology it has evolved, it became an excellent solution for various fill-scale manufacturing projects as well. Unlike injection molding, MJF 3D printing doesn't require additional set up costs or tooling, making it faster and a less expensive resource for small to medium project units. Furthermore it gives an almost absolute freedom of design and it boosts the time to market.
• Almost total freedom of design
• Time to market greatly improved
• Extreme customization possible
• Zero start-up costs
• Economic advantage in many cases, why?
1. Unique parts instead of separate parts for the same object
2. A new version of the part can be made without additional costs
3. The breakeven point can be very surprising
Time to Market:
Injection Molding vs. MJF 3D printing
Time to market can be a decisive competitive advantage in a historical moment when the average life of products is reduced and the end user is sensitive to delivery times. Take a look at this comparison chart:
Breakeven analysis:
some practical examples

By way of example, we refer you to a study of some time ago for some parts. Anyway the most precise thing to do is to upload your 3D file here to immediately get a quote to see what the breakeven exactly is for the part you have decided to make.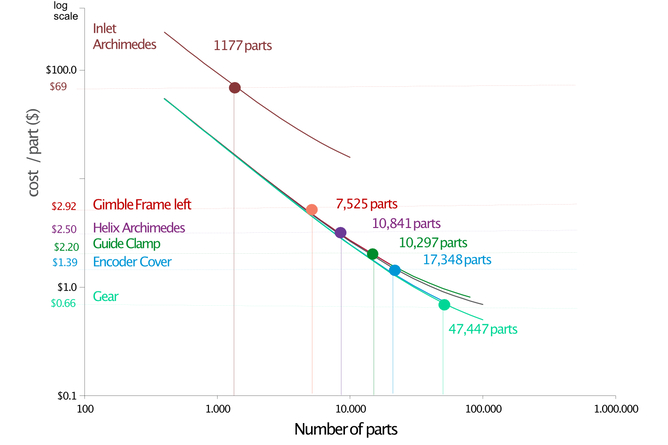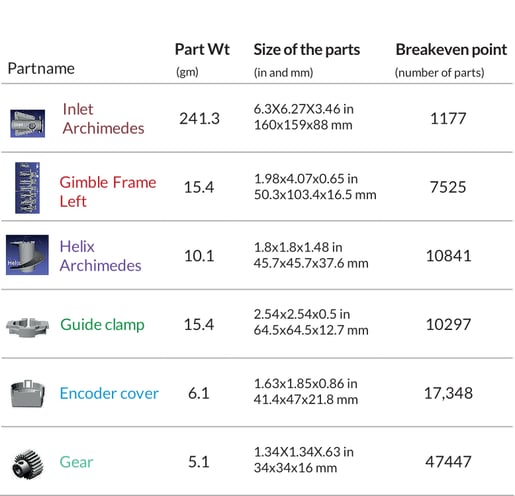 Optimization
The final design optimization for 3D printing is maintaining the third dimension and combining parts. When a mechanical designer takes a system function and breaks this into parts that can be easily Injection Molded, the resulting parts are largely 2.5-dimensional, meaning that they tend to have two larger dimensions and one smaller dimension. This is because molds must open and close easily. If you intend to 3D print the parts, the parts can remain integrated, and then the breakeven curve becomes a comparison of one part versus several parts from several molds.
Injection molding > MJF 3D printing

Conclusion:
let's keep it short
In choosing which process to use for final part manufacturing of a specific part, it's important to consider which may be the least expensive combination of process and material that meets the design requirements. It may seem trivial but perhaps the best thing is to leave theory aside and check the costs for YOUR parts, NOW. So click the button below and upload your 3D, the estimator will instantly tell you the cost of your parts for the delivery date you want.
---
References
https://www.kaysun.com/blog/plastic-injection-molding-vs-3d-printing
https://all3dp.com/2/3d-printing-vs-injection-molding-know-the-differences/
https://www.sculpteo.com/en/3d-learning-hub/3d-printing-technologies-and-processes/injection-molding-vs-3d-printing-technology/
https://www.creativemechanisms.com/blog/3d-printing-vs-injection-molding
https://sgwdesignworks.com/2019/05/03/injection-molding-vs-3d-printing-which-one-when/
https://www.rodongroup.com/blog/injection-molding-vs-3d-printing