3D Printing: FDM Fused deposition modeling - Online Service
The FDM printing technology allows to process thermoplastic polymers with unique properties at a mechanical, thermal and chemical level. The use of specific support materials makes it possible to unlock the technology's full potential
Performance Materials
High mechanical, thermal and chemical performance
Large portfolio
Great choice to best fit your application
Temperature Controlled
Repeatability guaranteed thanks to the heated printing chamber
5-day shipping
In-house production with reduced shipping times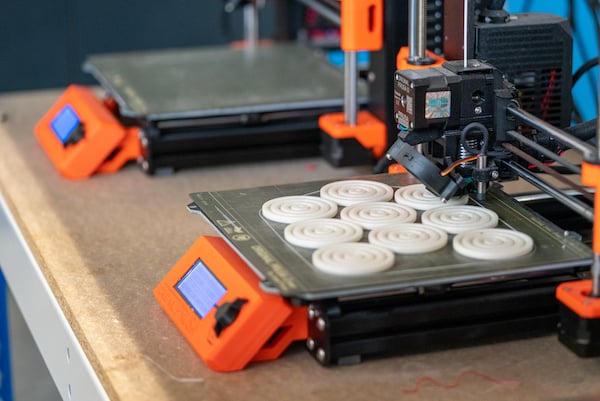 Special materials
Thermoplastics printable only in FDM
FDM or discrete material deposition technology allows the processing of thermoplastic, high performance and high temperature materials such as PEEK and PEEK CF. However, these super polymers have strict requirements and for correct production they require production machines with high precision and temperature control to the hundredth degree.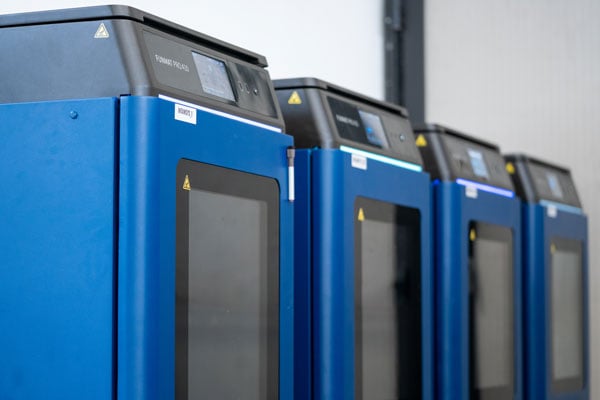 Controlled Process
Solutions to ensure repeatability
Our FDM machine system is equipped with advanced sensors that constantly monitor the printing process to ensure the correct fidelity of the print to the project at all times of processing. The temperature-controlled heated chamber eliminates thermal stresses and deformations created by thermal withdrawals.
Materials available for Fused deposition modeling
How does FDM technology work?
Fused deposition modeling or FDM creates the components layer by layer by depositing discrete material via a 0.40 mm diameter nozzle. The print head moves in XY and deposits a single layer. Subsequently the printing plane, the Z axis, moves downwards to allow the deposition of the next layer. The printing plate and chamber are both heated and temperature controlled throughout the production process to ensure printing success and process repeatability over time.
​
Why choose FDM technology?
FDM technology makes it possible to create both a quick and economical prototype of performance materials, but above all to produce components in high-performance polymeric materials with properties so high that they are excellent candidates in the replacement of similar products in non-ferrous metal allows, a process called Metal Replacement.
Other 3D Printing Technologies
Frequently Asked Questions
Does the print orientation change the properties of an object?
The mechanical properties of objects printed with this technology have an anisotropic behaviour, therefore the properties change along the different axes. In XY they are more performance-based, whereas the discontinuities of the layers in Z reduce their mechanical properties. Finding the best orientation remains fundamental for success and if in doubt, our technicians will be able to examine your files and provide you with feedback on the best solution for your application.
Are the components printed in FDM 100% full?
The components moulded with this technology are moulded with an internal "cubic" type honeycomb structure with a density of 30%. This internal structure is enveloped by a uniform 1.6 mm shell. This limits the thermal stresses dictated by localized material accumulations and guarantees in the same way the lightness and performance of the components.
Are there any limitations in terms of the components I can produce?
The materials developed in Weerg for this technology are all combined with specific co-moulded support materials that allow the process limitations determined by the discrete mono-material deposition to be eliminated. Unfortunately, however, due to the most marked thermal withdrawals, some materials are processable albeit with geometric constraints dictated by the maximum and minimum wall thicknesses to ensure limited thermal stresses.