3D Printing: MJF Multi Jet Fusion - Online Service
HP's Multi Jet Fusion (MJF) technology makes it possible to obtain finished parts with excellent mechanical properties, a good level of detail and high repeatability. The best alternative to injection moulding for medium runs,
Functional parts
Excellent isotropic mechanical properties of polyamides
Prototypes and runs
Excellent alternative to injection moulding
Print runs in 2 days
Extremely short lead time, parts shipped in 2 days
First plant in the world
Weerg has the largest installation of HP MJF 5210 in the world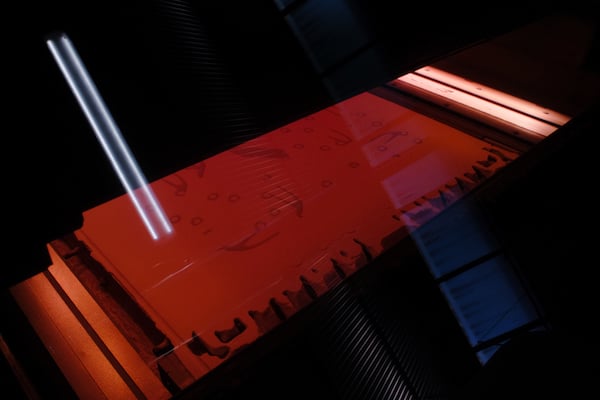 Functional parts in 2 days
Complete design freedom
MJF technology represents a huge revolution for 3D printing, taking it to the levels of injection moulding. Starting from a powder base, it offers an 80µm layer and the possibility of working without supports, creating complex geometries and concatenated objects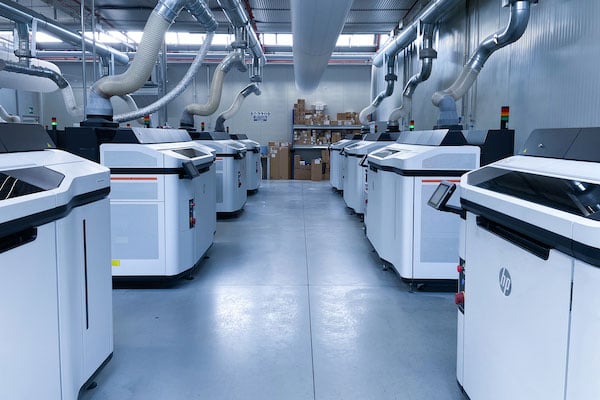 Production Capacity
The largest installation in the world
With over 16 HP Multi Jet Fusion, Weerg offers the service with the largest HP 5210 installation in the world. The machines operate 24/7 allowing you to make runs of thousands of parts in just 2 days and at a lower cost than traditional technologies such as injection moulding
Materials available for Multi Jet Fusion
Finishes available for Multi Jet Fusion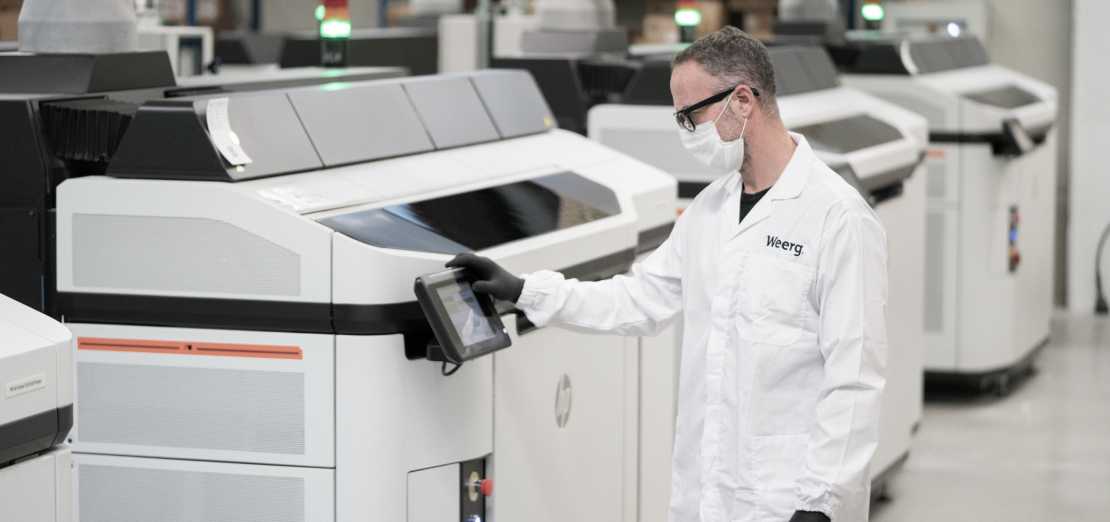 How does Multi Jet Fusion technology work?
Multi Jet Fusion (MJF) technology is a 3D dust-bed printing system developed by HP. Unlike SLS technology, this technology does not require a laser to sinter the material. A powder bed is deposited inside the print build and heated to a fixed temperature. A melting agent is deposited on these powders where the material will have to melt and a finishing liquid is deposited on the contours of the level to improve the resolution of the parts. Subsequently, the lamps slide over the level distributing the heat, the deposited agent absorbs the heat and helps distribute it evenly. This process is repeated for each level: in addition to guaranteeing the perfect adhesion of the layers, it allows for a fixed production time and a consequent reduction of costs.
​
Why choose Multi jet Fusion technology
Multi Jet Fusion MJF technology has immediately established itself on the market for its high level of innovation within additive manufacturing. In fact, for the first time, a 3D technology could produce parts in series of good workmanship, with excellent mechanical properties, a high rate of repeatability and in an economically advantageous way. From a design perspective, given that MJF technology does not require supports, the designer has total freedom, able to create complex geometries or linked objects. If traditional technologies such as injection moulding or extrusion remain valuable after amortizing the cost of the initial mould, MJF technology allows prototypes and runs to be made up to a thousand pieces faster and at a lower cost.
Other 3D Printing Technologies
Frequently Asked Questions
Are Multi Jet Fusion plastics resistant?
MJF technology is a great choice for producing resistant, durable parts with a high degree of detail. With the range of materials available for this technology, the PA12 Nylon offers versatility for a wide range of industrial applications: its hardness, rigidity and ability to work under stress have made it indispensable in the automotive and aerospace industries. If you need more performance, you can also choose more performance materials such as Nylon PA 11, Polypropylene or the glass-loaded variant of PA 12.
How much does it cost to produce with Multi Jet Fusion?
It has an excellent quality/price ratio. The Multi Jet Fusion technology is very versatile and makes it possible to produce prototypes and runs within the same job, without significant start-up costs for individual projects. In addition, the printing process has a constant duration: in addition to guaranteeing certain and short production times, it offers a significant reduction in production costs. For runs of up to 1000 copies it is difficult to find a technology with a better quality / price ratio.
Does it cost less than injection moulding?
The price of injection moulding depends mainly on the production cost of the mould and starting the process, which can range from €8000 upwards. This cost subsequently drops depending on the number of copies produced: on average the break-even point with other technologies is close to 1400 copies. Multi Jet Fusion technology does not have start-up costs to be amortized, therefore, with the same quality as the finished product, it is much cheaper up to runs of around 1000 copies.